As far as police know, Earnest McKnight was a bystander Sunday evening when the shooting started. Neighbors said he was just out to get a pack of cigarettes from a corner store in a part of Central City where he was a regular fixture.
Instead, the 63-year-old grass cutter ended up as the only fatality in a shooting incident that wounded five other victims, most of them apparently also not involved in whatever dispute touched off the gunfire, according to police. 
It was the worst mass shooting in New Orleans this year and one of the bloodiest scenes of gun violence since the infamous melee in Bunny Friend Park almost a year ago, which injured 17. And it raised similar questions about why anyone would fire so indiscriminately at a group of innocent people.
New Orleans police are sifting through a web of gang and neighborhood rivalries for clues. No suspects or motives had been announced as of Monday evening, and police pleaded with the public for help.
The violence began about 8:10 p.m. Sunday near South Claiborne Avenue and First Street. Investigators believe that one or more people opened fire into a group of men and women standing near the South Claiborne Market.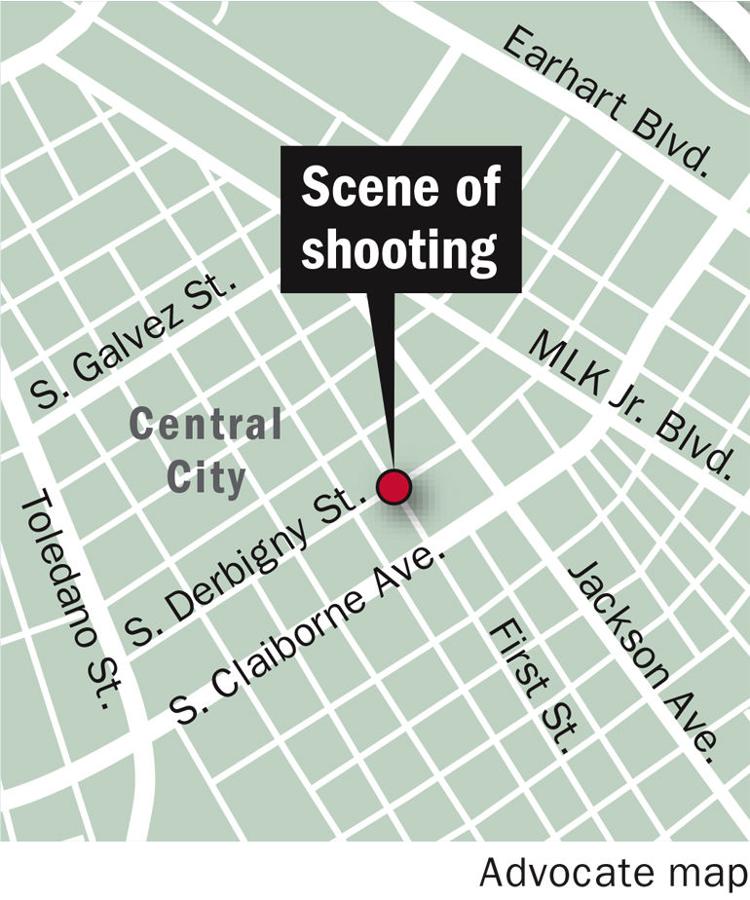 Besides McKnight, who was shot in the head, four other men and one woman were injured along the course of a bloody crime scene stretching from Claiborne Avenue to South Derbigny Street a block away. The victims ranged in age from 23 to 60, police said; none of the survivors sustained life-threatening injuries.
Neighbors often congregate near the corner store, according to those who live nearby. Jacci Pierre, 39, said open drug dealing and prostitution are common in the area, as is gunfire.
Pierre said she was bringing her children home from church when the staccato gunfire — at least 20 shots — began.
"I didn't see nothing, but I heard, trust me, I heard," she said.
One victim of the shooting, who asked not to be named for fear of retaliation, said he was on Derbigny Street talking with a friend when the attack began. He tried to flee when the shooting started but was shot in the right forearm.
"The next thing you know, you just hear the gunshots and everybody's running," the man told WWL-TV. "I'm trying to go through the fence because I don't want to get in the midst of the gunfire, and I done got it. I don't even know what's going on, how it started or whatever."
Another neighbor, John Scott, 35, said a friend who was outside at the time of the shooting told him that McKnight, who died in the hospital late Sunday, had just bought a pack of cigarettes at the store and was on his way back home when he stopped for a light.
That was when the shooting began. McKnight was shot in the head and collapsed on a nearby grassy lot, Scott said.
"An innocent person got killed," he said. "It's a tragedy."
McKnight's sister, 55-year-old Lucille McKnight Lee, said her brother was born in Greensburg, in St. Helena Parish, and moved to New Orleans at age 15. He had raised several children and many grandchildren, she said.
"He loves New Orleans, and just the thought that a 63-year-old man can go to the corner store and not leave is just awful," Lee said.
Police Superintendent Michael Harrison said investigators were probing whether the shooting was connected to other recent incidents in the NOPD's 6th District, although he declined to give further details. Anti-gang officers are involved in the investigation, Harrison said.
"We're working to connect the dots to figure out if any of the victims are associated with any other incidents that may have happened," he said.
Detectives believe that two of those wounded Sunday were the intended targets of the attack, Harrison said. He declined to identify them.
Harrison said investigators were trying to sort out whether the shooting was a "drug deal gone bad, or if this is some other neighborhood feud."
Police initially said three victims were injured in the shooting, a figure that rose hours later to six. Three victims were taken to different hospitals in private vehicles, which is why the total number of victims was unknown for a time, NOPD spokesman Tyler Gamble said.
Crime analyst Jeff Asher said that 11 days in 2016 have seen five or more shooting victims in New Orleans, with most of them wounded in separate incidents instead of mass shootings. Total shootings in New Orleans are on pace for a 17.3 percent increase this year, Asher said, and killings are on track for a 1.6 percent rise.
Police urged members of the public with information to call the NOPD or Crimestoppers at (504) 822-1111.