A 30-year-old 7th Ward man implicated earlier this year in a 2008 double murder is also strongly suspected of having participated in the 2013 robbery that left a Loomis armored truck driver dead, multiple criminal justices sources have told The Advocate.
Chukwudi "Chuck" Ofomata is the second man now linked to the slaying of Hector Trochez, one of the highest-profile killings in New Orleans in recent years that have yet to result in criminal charges.
The identity of the other man, LilBear George, was revealed in 2014 federal court filings reporting that George's DNA was found on a screwdriver in a stolen SUV used to carry out Trochez's killing.
Though authorities have yet to charge George, multiple sources also said that he remains in the cross-hairs of the nearly four-year-old federal investigation into Trochez's killing. That probe apparently could culminate in charges in the coming weeks or months.
The sources spoke on condition of anonymity because the investigation remains ongoing.
There was renewed public attention on Trochez's case earlier this summer after another Loomis employee, Jimmy McBride, was killed during a similar robbery attempt in Mid-City on May 31.
McBride's killing has led to charges against two men who have pleaded not guilty in federal court.
Cases involving bank and armored truck robberies are generally handled by federal authorities.
A month before a May 31 attempt to rob an armored truck left Loomis employee James McBride d…
Prosecutors trying defendants charged in armored truck or bank robberies in which someone is killed typically have the option of seeking the death penalty. It is not clear whether they intend to do so in either of the Loomis robberies.
Even before authorities fingered him as a suspect in the killings of at least three people five years apart, Ofomata was facing serious charges.
A federal grand jury in February 2016 handed up an indictment alleging that Ofomata and another man were involved in the sex trafficking of a minor. Lydell Hinton and Ofomata — who has previously been convicted of drug and weapons violations — are awaiting a jury trial in that case tentatively scheduled for September.
Separately, court records show, two informants told the FBI that Ofomata had fatally shot a woman and a man who owed money to a friend of Ofomata's, Timothy Webb. The shootings took place at Webb's 7th Ward "chop shop" in April 2008.
New Orleans police this week arrested a man they accuse of taking part in the fatal shooting…
According to multiple sources, the investigation into the ambush and killing of Trochez by masked gunmen outside a Chase Bank branch at South Carrollton and South Claiborne avenues on Dec. 18, 2013, continues. The sources said the investigators appear to be gathering information that could eventually be used to support charges in the Trochez case.
FBI Special Agent Steve Rayes, among those working on that case, forwarded the information about Ofomata and the 2008 7th Ward chop shop slayings to New Orleans police, cold-case Detective Winston Harbin testified in court earlier this summer.
That information led police to jail Webb on May 22 on two counts of second-degree murder in the deaths of Jarnell Sanders, 22, and his girlfriend, Candice Gillard, 24, whose badly burned bodies were found in the back of a car that had been torched.
Ofomata's name figures prominently in the paperwork supporting Webb's arrest. Those documents allege that Ofomata fatally shot Sanders and Gillard during a dispute over money and then chopped up their bodies so they would fit in a car he later incinerated.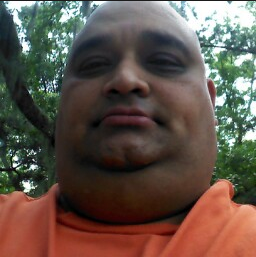 Ofomata has not been transferred to New Orleans' jail, however. He instead remains in federal custody in St. Tammany Parish.
Ofomata's federal court attorney declined requests for comment.
George is also in federal custody, awaiting trial alongside three other defendants on gun and drug charges in connection with an alleged botched drug deal in the French Quarter in February 2016.
Federal agents have filed gun and drug charges against a man who once was linked to a fatal …
Trochez, 45, was born in Honduras. He had lived in Kenner for more than a decade and had spent five years working for Loomis when he was killed.
Trochez's sister, Claudia, told The New Orleans Advocate earlier this summer that she had been previously told by authorities that whoever they believe killed her brother was in custody on an unrelated case. But she said she couldn't remember the name or names mentioned to her.
Claudia Trochez couldn't be reached for comment for this story. 
Staff writers Jim Mustian and Helen Freund contributed to this report.