The man who admitted killing notorious mob figure Kent "Frenchy" Brouillette nearly three years ago may not be behind bars for much longer.
William Bonham, 53, has been in jail since New Orleans police arrested him shortly after the Dec. 4, 2015, stabbing death of Brouillette, a killing he has always claimed was done in self-defense.
After he pleaded guilty to manslaughter in July, Orleans Parish Criminal District Court Judge Karen Herman on Friday gave him a four-year prison sentence with credit for the time he has already served. 
Under state law, in exchange for good behavior, Bonham would be eligible for release prior to completing his entire sentence. But it's up to the state Department of Public Safety and Corrections to calculate how much more time Bonham must spend in prison.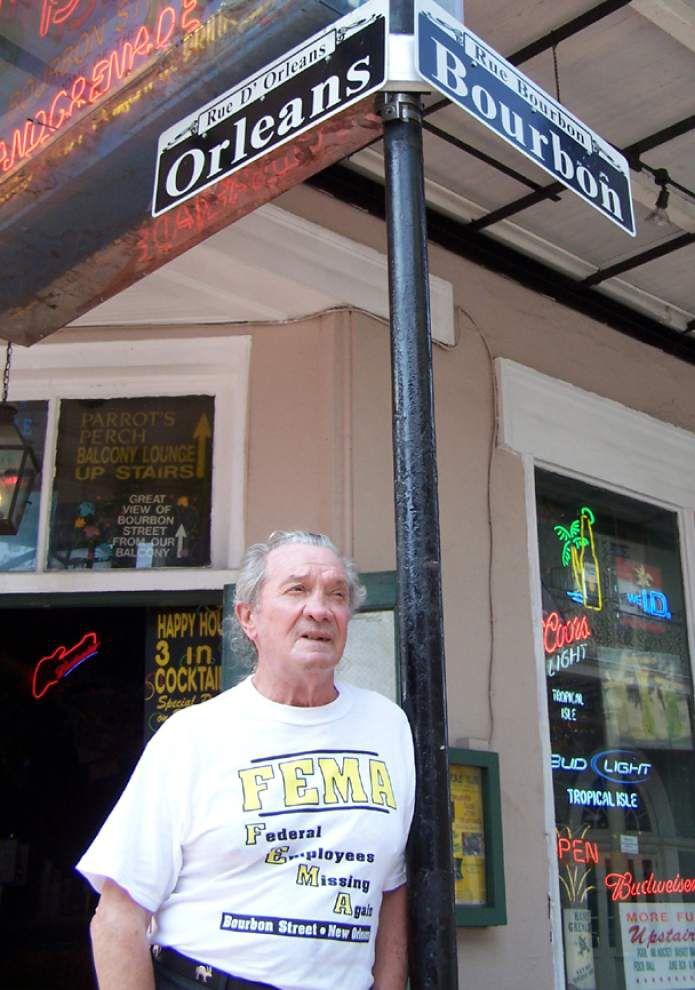 Bonham's attorneys, Graham Bosworth and Autumn Town, said they had found a raft of evidence supporting Bonham's claim that he was defending himself when he killed Brouillette, 79, who had a lengthy rap sheet and boasted in an autobiography that he was a "fixer" for legendary New Orleans mob boss Carlos Marcello.
In a memo filed ahead of Friday's sentencing, Bonham's lawyers wrote that Brouillette had attacked Bonham in June 2015, hitting him in the head with a vodka bottle. In addition, they wrote, Brouillette had stolen $25,000 worth of Bonham's musical instruments, prompting Bonham to involve police. 
Bonham said Brouillette threatened to kill him for calling police. That led to a confrontation and then a fight, in which Brouillette — drunk and high on drugs — picked up a knife that Bonham wrested away, the lawyers said. Brouillette attempted to tackle Bonham, and in the scuffle Bonham fatally stabbed Brouillette, they said. 
Brouillette's body was discovered the day after his slaying, and police obtained a warrant to arrest Bonham.
Bonham had checked himself into a hospital because of a knife wound on his hand. His doctor called the police and he was arrested at the hospital, according to Bosworth and Town's filing, which provides the most complete public account yet of the case. 
Herman received about 10 letters of support for Bonham, a native of Long Island, New York. His lawyers' filing asserts no one spoke out in support of Brouillette. 
"William Bonham stands in stark contrast to the violent career criminal," the filing said. 
Brouillette developed a larger-than-life reputation in the local underworld. In his heyday in the 1960s and '70s, he was convicted of running prostitution rings and admitted to pushing drugs. The FBI compiled a 6,859-page file on him, Bosworth and Town wrote. 
But Brouillette's final days were spent far from New Orleans' ritzy neighborhoods, dying in a flophouse in the 2400 block of North Tonti Street in the St. Roch neighborhood.
"The First 48" true crime show on A&E documented the police investigation that led to Bonham's arrest.
Some veteran law enforcement officials dismiss Brouillette's autobiography "Mr. New Orleans," saying he exaggerated the standing he had with Marcello.
"I found that most of the time, he was just one of those wannabe guys," former vice squad detective Jeff Zapata said. "He always led people to believe that he was connected, and he would always claim that it was (Marcello) who got him out of jail ... but really he was a two-bit pimp. 
"If you were really an associate of (Marcello), you never did that," said Zapata, who later became a Jefferson Parish Council aide. "That was just a respect thing."
Bonham initially was charged with obstruction of justice and murder, which carries mandatory life imprisonment upon conviction. As part of a plea deal, he copped to the reduced charge of manslaughter, which has a maximum of 40 years' imprisonment but no mandatory minimum punishment. 
In return for the plea, prosecutors dropped the obstruction of justice charge and didn't ask the judge for any particular punishment. 
Staff writer Matt Sledge contributed to this report.
The man who killed notorious Mafia figure Kent "Frenchy" Brouillette in a St. Roch flophouse three years ago pleaded guilty Thursday to a redu…