A New Orleans Police Department officer was shot in the leg Thursday night while he "patted down" an 18-year-old man inside a Mid-City gasoline station, officials said. 
The wounded officer was released from the hospital Friday morning.
Michael Baker was arrested and faces a count of attempted first-degree murder of a police officer, the NOPD said Friday.
A New Orleans police officer was shot in the leg inside a Mid-City gasoline station Thursday night while investigating a complaint about a sus…
According to police, the officer was responding to a call reporting a suspicious person with a gun at a Shell station in the 3300 block of Tulane Avenue about 9:15 p.m.
Employees there told the officer that a man and a woman were going in and out of the business without buying anything.
The officer found Baker in a hallway outside the restroom, stopped him to question him and began patting him down, according to records filed in Orleans Parish Criminal District Court. 
When the officer reached toward the waistband of Baker's pants, Baker also reached there, police said, and the officer was shot in the leg by a concealed gun that Baker had. 
The bullet lodged in the officer's right calf, police said, but he held onto Baker until other officers arrived, arrested Baker and confiscated the gun, authorities said.
Police Superintendent Shaun Ferguson praised the actions of the wounded officer as well as his colleagues, who captured Baker without firing a shot.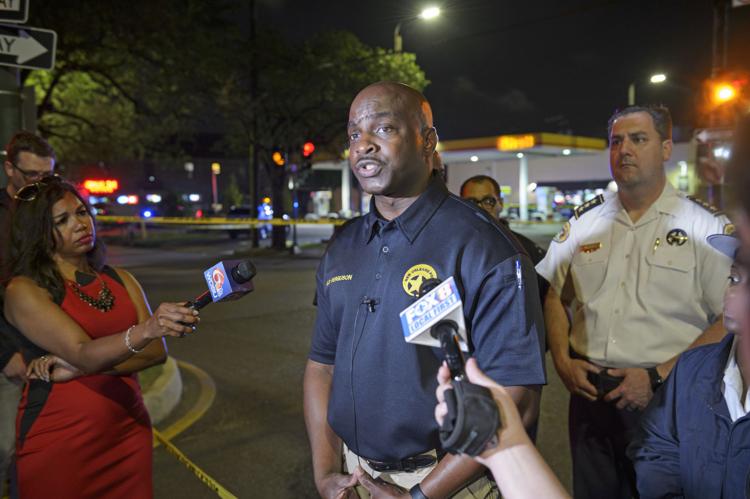 Ferguson said his officers behaved exactly how department members are taught under the terms of a six-year-old federal reform pact that emphasizes using deadly force only as a last resort.
"This (wounded) officer showed great restraint. He never removed his weapon from his holster during this encounter," Ferguson said during a news briefing outside the Shell station late Thursday. "This is another brave act by our officers who are doing their job day in and day out, protecting and serving the citizens of our community."
Police said they detained 27-year-old Timanisha Taylor because she also was inside the store at the time of the shooting. She was booked on warrants issued in connection with a domestic assault case from February as well as a residential break-in reported Tuesday.
Baker could spend decades in prison if convicted of attempting to murder a police officer. A magistrate commissioner set his bail Friday afternoon at $750,000. 
Thursday was not the first time Baker was accused of acting violently.
In April 2018, he completed six months' probation after pleading guilty to simple battery as a first-time offender in connection with a case that initially saw him accused of attempted armed robbery and illegal weapon possession, Criminal District Court records show.
He was booked in December with simple burglary, but prosecutors declined to charge him.
Police said the wounded officer's colleagues applied a tourniquet to his leg to slow his bleeding before he was taken to the hospital. 
Police didn't identify him but described him as a three-year veteran. 
He was the second NOPD officer shot in the line of duty this year.
On Jan. 4, a 33-year-old man was fatally shot by police after he fired two bullets into a cop's protective vest while officers investigated a report that a man was threatening suicide in the 2300 block of Orleans Avenue in Treme. The vest prevented the officer from being seriously wounded.