Wayne Higgins, the man accused of fatally shooting a controversial tow truck company owner in Metairie during an argument Saturday, had previous altercations with both of his next-door neighbors that drew police response, authorities say. 
Before he shot Lee "Big Lee" Martin, known widely for the LSU-themed display in his front yard, Higgins, 78, had already quarreled with both Martin, 53, and the neighbor who lived on the other side of his house in the 600 block of Bonnabel Boulevard. 
The other neighbor told the Jefferson Parish Sheriff's Office in 2014 that she had returned from a trip out of town to find the plants in her yard had been killed. She said they were in good condition when she left nine days earlier, and when she saw Higgins doing yard work next door, she walked over to ask if he knew how they died.
The woman, now 71, claimed Higgins, with a pistol holstered on his hip, told her he killed her plants because she had set up animal traps on her property which had killed his cat. She denied ever having harmed the cat and filed a complaint with the Sheriff's Office, records show.
Higgins told the deputy responding to the complaint that he didn't do anything to his neighbor's plants, though he did say his cat had been missing.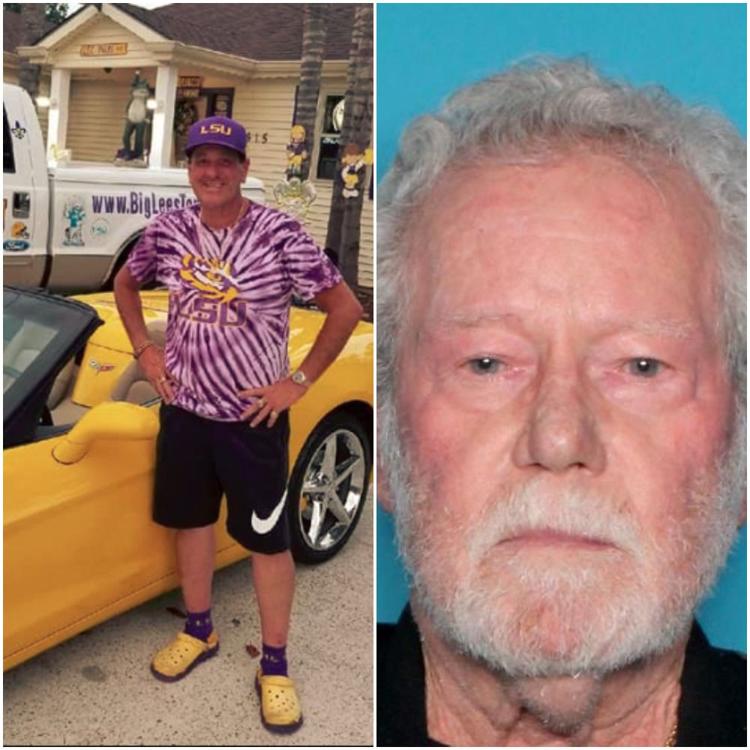 The deputy, who verified Higgins had a valid concealed handgun permit, didn't find any surveillance cameras in the immediate area and apparently closed the case without further action.
The Sheriff's Office had responded to one previous complaint about a dispute between Higgins and Martin.
Deputies were called out in March 2017 after Higgins complained that Martin had thrown some vines into his yard. The deputies did not write up a report on the incident. 
Neighbors have said the two men had a number of other arguments that didn't gain deputies' attention, all stemming from a feud which began with a disagreement over the placement of a fence between their properties. 
But their rivalry boiled over Saturday morning, when Martin sprayed a hose through an open window of Higgins' truck, and Higgins then got out and shot Martin dead, authorities said. 
Can't see the video below? Click here.
---
Martin, a self-styled LSU sports superfan, at the time was facing his own legal problems. He was awaiting trial on allegations that he intentionally hit a Kenner woman with his tow truck last year. And he was on probation after previously pleading guilty to punching the manager of a rival tow truck company.
Among other claims, he also had been accused of raping a woman he had just hired at his company, though he was not arrested in that case.
A long-simmering feud between the flamboyant and pugnacious tow truck company owner Lee "Big Lee" Martin and an elderly neighbor ended Saturda…
Over the past few years, local residents have made claims on Facebook that Martin had made unwanted sexual advances toward women, including some whose cars he towed. 
He reacted defiantly, writing, "You think you can slander my name and get away with it? I own Metairie. The police work for me, sluts."
Martin's reputation seemed to generate a significant amount of public sympathy for his accused killer. After the incident, a GoFundMe campaign popped up to help pay for Higgins' legal defense, although it was suspended because the fundraising website does not allow users to raise money for suspects in violent crimes.
The Tic-Toc Café in Metairie posted a message on its sign, reading, "Love thy neighbor. Your life may depend on it!"
The restaurant's Facebook page said the sign was a statement about how quickly some people resort to gun violence, but some interpreted it as a joke at Martin's expense. 
Though prosecutors haven't yet followed up Higgins' arrest with charges, he may have an uphill legal battle. 
Legal analyst Donald "Chick" Foret, a former prosecutor, said it will be hard to assert that Higgins killed Martin in self-defense, given that — according to the Sheriff's Office — Martin was not armed. 
Higgins could argue he lost his cool after being provoked with the hose, which would be key to pushing for the lesser charge of manslaughter, Foret said. But allegedly taking time to step out of the truck to shoot Martin won't help that argument, Foret said. 
Higgins didn't speak to deputies after his arrest and remains jailed in lieu of $500,000 bail. He's being represented by the parish Public Defenders Office, which declined comment.
The arrest Tuesday of a Metairie towing company boss known as "Big Lee" on allegations that he intentionally hit a woman with his tow truck is…