Every year, tens of thousands of parents enter an online lottery for seats at most of New Orleans' public schools, hoping they'll get matched with their top choice.
Over the years, however, competition has gotten more intense for coveted seats at top schools, especially in kindergarten and 9th grade. 
This year, just 5 percent of eligible kindergarten applicants were matched to Audubon Gentilly, a new school to be run by the group that runs the B-rated Audubon Charter School in Uptown.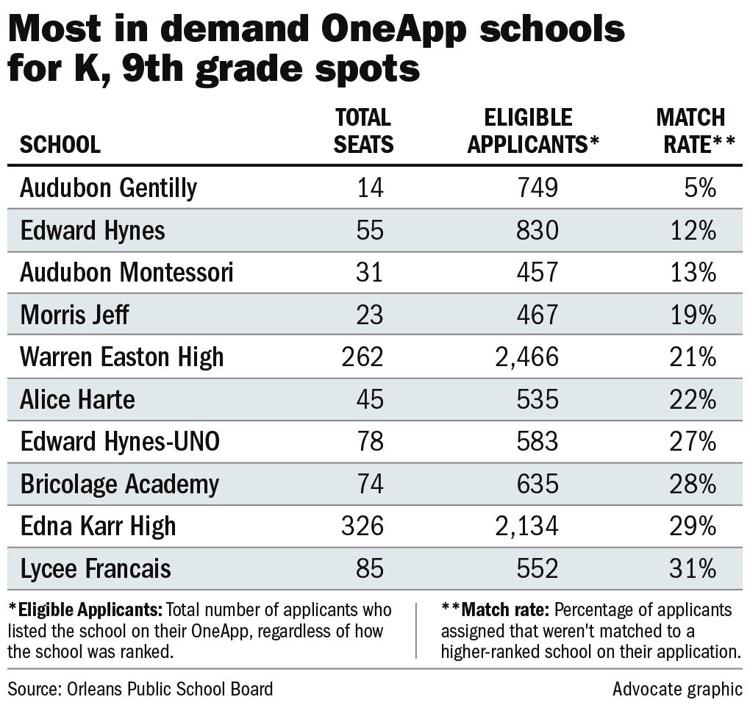 That makes the Gentilly Terrace school the most difficult by far to get into out of the 10 most applied-to elementary and high schools that participate in the universal application process called OneApp. The new school had only 14 seats available, and 749 families listed the school on their first-round application.
Ranking in second and third places were Edward Hynes Charter School in Lakeview and Morris Jeff Community School in Mid-City.
Data from the Orleans Parish School Board show prospects were grim for several other frequently applied-to schools, with nine of the top 10 having match rates of less than 30 percent.
"Demand for seats is very high, but ultra-concentrated," Superintendent Henderson Lewis Jr. said in a newsletter preparing parents for the placement results.
Parents can rank up to 12 schools on their application. An algorithm assigns students to schools based on certain priorities, including whether they have a sibling already at the school, live within a half-mile or have a parent who works at a partnering university.
For students who don't have priority status, the match is determined solely by a lottery number drawn by the system.
The match rate was only for first-round applications. If parents are unhappy with initial results, they can go through a second round, which opens Monday and closes May 31.
The match rate also doesn't account for the total number of applicants because it doesn't include families who were either ineligible or were matched to a higher-ranked choice on their OneApp application.
The district said 68 percent of applicants got one of their top three choices for next school year, a slight increase from the 67 percent last year.
But it's a big drop from five years ago, when 78 percent of applicants got into one of their top three listed schools in the 2014-15 school year.
Lewis warned that the results would be a "mixed bag," because even though there are 79 schools in the Orleans Parish School Board system, most applications list the same five to 10 schools, he said. 
Of the top 10 most in-demand schools, the highest match rate was at Lycee Francais de la Nouvelle Orleans, a French-immersion school where 31 percent of students who had placed it as a top choice were accepted.
"Many families will be elated with their placements, but many families will be disappointed," Lewis said.
And the OneApp doesn't even show total demand for the best-rated schools.
Seven Orleans Parish public schools got an "A" grade from the state in the 2018-19 school year, but only three — Edward Hynes Elementary Charter, Edna Karr High School and Warren Easton High School — use OneApp. The others, including Lusher Charter School, Benjamin Franklin High School, the New Orleans Center for Creative Arts and Lake Forest Elementary Charter School, use separate applications.
Editor's note: A previous version of this story had the wrong grade for Audubon Charter.