A chemical plant in LaPlace that has routinely discharged an air pollutant that the Environmental Protection Agency now says is "likely" to cause cancer has agreed to try to cut its emissions by 85 percent by the end of next year.
A spokesman for the company, Denka Performance Elastomer, said the manufacturer will spend $17.5 million on technology that will reduce the airborne levels of the chemical, an organic compound called chloroprene, which is used to make synthetic rubber.
The requested reduction, which the company has agreed to abide by, comes after a year of meetings in which concerned residents and public officials have demanded that the Louisiana Department of Environmental Quality immediately address the issue to mitigate potential health hazards.
According to the EPA, recent studies show evidence that chloroprene causes an increased risk of liver cancer in workers making the chemical and the possibility of an increased risk of lung cancer in others. Representatives from the agency say the chemical can also cause shorter-term problems ranging from headaches and dizziness to respiratory irritation, chest pains and hair loss.
Data from LaPlace-based air testing sites show that in the past year, the EPA has detected more than 330 times the concentration that the agency says could potentially be harmful to humans. The EPA assesses risk by determining the likelihood a person could get cancer.
For chloroprene, the agency found that there's a cancer risk of 1 in 10,000 if a person is exposed to a density of 0.2 micrograms per cubic meter over a lifetime. The chemical has been produced at the site for more than 40 years.
Among those most affected is 76-year-old Robert Taylor, a lifelong LaPlace resident who about three months ago formed the group Concerned Citizens of St. John because he wasn't satisfied with the solutions being presented after EPA and LDEQ officials held meetings to explain the recent findings.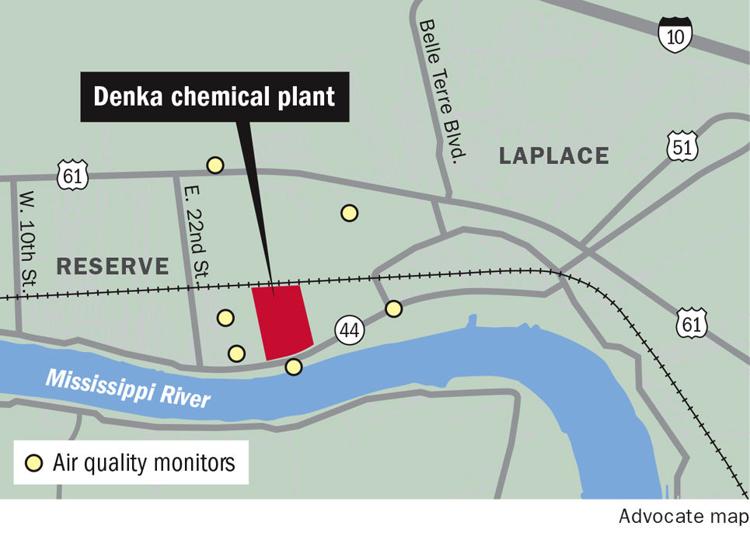 For as long as he can remember, Taylor said, a chemical smell would intermittently wash over his neighborhood. But the odor from the Denka plant got so bad in his home this summer that he called 911.
"My wife, she was having difficulty breathing, and her eyes were burning," Taylor said about the toxins emitted from the plant, which is about a quarter of a mile from his house. "It's horrible."
Dr. Chuck Brown, secretary of LDEQ, recently told the St. John the Baptist Parish Council that after several months of monitoring, six air quality testing sites in LaPlace showed spikes in chloroprene levels.
He added, however, that the spikes didn't reflect the average data taken from the sites and don't reflect risk of long-term exposure.
"When you get a monitor that shows a spike, you also get a monitor the same day when the wind is blowing a different way that shows none detected," Brown told the council members. "So all that's to say it's not like there's a smoking gun somewhere in St. John Parish."
Brown also pointed to data from the Louisiana Tumor Registry, collected by the LSU Health Sciences Center School of Public Health, which showed no higher incidence of cancer in St. John Parish than elsewhere in the state.
"Believe me, if we felt there was an imminent threat, we would be taking the appropriate measures to deal with that threat," Brown said. "We've got these measures in place. We're going to evaluate effectiveness. We're going to continue to go through this together."
The EPA has been collecting samples in 24-hour increments at six monitoring sites around the plant since December 2015, when it released a study from 2011 showing, among other things, that the approximately 43,000 people living in St. John Parish have the highest potential risk of cancer in the state due to industrial releases into the air.
According to the EPA, the high amounts of chloroprene have been traced back to the LaPlace plant. Denka in November 2015 acquired the chemical plant DuPont Performance Polymers, which had used chloroprene to produce synthetic rubber for about four decades.
Currently, Denka is the only company in the country producing the synthetic rubber with the commercial name Neoprene. The rubber is used to make everything from wet suits to orthopedic braces and covers for poker tables.
The EPA hasn't gone as far as to say that the chemical definitely causes cancer, but after a National Air Toxics Assessment study found the six census tracts with the highest estimated cancer risks nationally are all in Louisiana, it said further investigation was warranted because of Denka's chloroprene emissions.
The agency decided to conduct the 2011 study after reclassifying chloroprene as a likely carcinogenic to humans the year before. According to the EPA, people are at risk of getting cancer after a "lifetime" of low-level exposure, or for 24 hours a day, seven days a week for 70 years.
Now, according to the EPA, the agency must assess the long-term situation. First, the agency has to determine what amount of reduced emissions will produce "protective" air quality for St. John residents. Then, it will have to decide what additional actions, if any, need to be taken to ensure Denka meets those standards. 
State Health Officer Dr. Jimmy Guidry said the parish's chloroprene situation should be taken "very seriously," but he also finds "some comfort" in the fact that St. John had not seen higher than normal cancer levels in recent decades.
"You'd expect higher levels of cancer if the exposure had been high enough, and we're not seeing that," Guidry told council members this month.
Dr. LuAnn White, a toxicologist at the Tulane University School of Public Health and Tropical Medicine, added that chloroprene is one of several chemicals that can be difficult to monitor in people because it gets broken down in the body "very quickly."
"We don't really want to look at when people get sick," White said. "We want to use the science that we know and say, 'Let's find it before people get sick.' "
Jorge Lavastida, the executive officer and plant manager for Denka, said the company is doing everything it is being asked to do and is "well within" permitting limits set by the EPA.
Permitting under the Clean Water Act allows Denka to release up to 200 tons of emissions per year, Lavastida said, while the company last year emitted only 120 tons. The allowable amount is expected to change next year, but it's unclear what the new number will be, according to an EPA memo. 
Lavastida also said the possible link between chloroprene and cancer "isn't a settled science," and he cited a study that says people exposed to chloroprene "do not have elevated risks of mortality."
Regardless, he said, the company is making "a huge investment" to try to reduce emissions.
The biggest change is that the company will be installing a Regenerative Thermal Oxidizer, a piece of equipment that Lavastida said has proved effective in removing chloroprene emissions from plants in Japan, where the manufacturer's parent company is located.
Denka will also route some emissions to an additional vent condenser, install a vacuum pump, replace an older vacuum system and install more than 1,200 feet of pipe that will redirect the chemical to be removed by combustion.
The company estimates residents should start to see reduced emissions within six months.
Wilma Subra, a chemist and technical adviser with the Louisiana Environmental Action Network, said the planned reductions don't begin to ameliorate the risk St. John residents face.
Data show that since the company announced it would be reducing emissions, the levels of chloroprene in St. John have gone up, not down, she said.
"That's of extreme concern right now," Subra said.
Taylor agreed, although he said what keeps him up at night are not the spikes in chloroprene being documented now, but the potential long-term effects his family could face after nearly a lifetime of living next door to the plant.
"It's made people sick in the community," he said. "We've been living with that for years."