A tropical depression formed in the Caribbean Sea on Wednesday with projections indicating it will move into the Gulf of Mexico in the coming days. 
According to the National Hurricane Center, the depression should move slowly northwestward across or near the eastern portions of Nicaragua and Honduras on Thursday, move into the northwestern Caribbean Sea by Friday, and emerge over the southern Gulf of Mexico by Saturday.
Maximum sustained winds are near 35 mph (55 km/h) with higher gusts. The depression is expected to become Tropical Storm Nate by Wednesday night.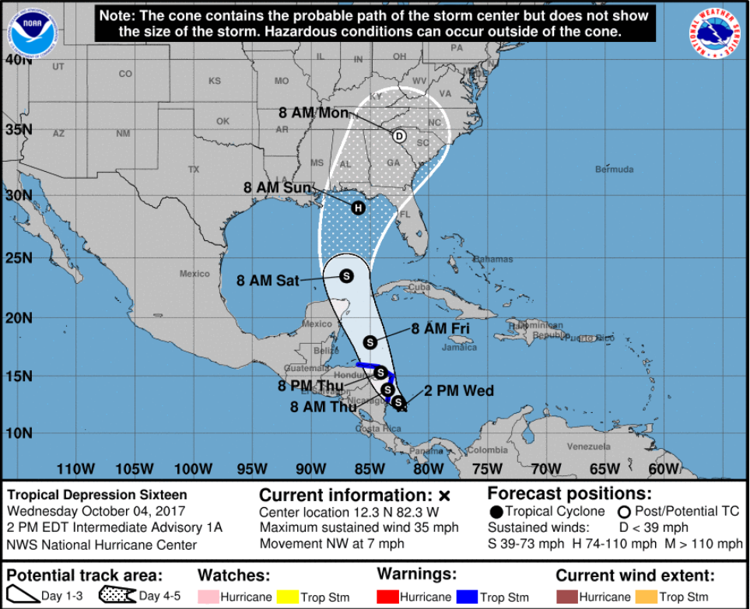 The storm is expected to strengthen into a hurricane before striking the Gulf Coast between Sunday and Monday. Current projections indicate the storm will drift eastward and affect portions of Florida, Alabama and Mississippi.
Gov. John Bel Edwards said Wednesday that he's been monitoring the weather outlook. FEMA administrator Brock Long said he had been in contact with Edwards, as well as the governors of Mississippi, Florida and Alabama about the potential threat.
"Residents along the Gulf Coast from Louisiana to Florida should monitor the progress of this system for the next several days and heed any advice given by local officials," read an advisory from the NHC.
If the depression strengthens into hurricane it'll be the ninth of the season and possibly the third to strike the United States. 
Can't see the video below? Click here.