A package of ordinances legalizing and regulating short-term rentals in New Orleans appears poised for approval by the City Council on Thursday, though it remained unclear Wednesday whether there will be last-minute tweaks to the plan.
The vote comes as Airbnb, the most prominent company in the market and a key player in negotiations over the planned rules, made a last-minute lobbying push to the council, with its director of global policy describing the proposed regulations as "a model piece of legislation" that "others are going to emulate."
At least a few minor changes likely will be proposed Thursday during a meeting that is expected to generate significant interest from both those who use on-line rental platforms and the loose coalition of neighborhood groups, hospitality industry representatives and affordable housing advocates who have criticized the proposed rules.
City officials crafted the proposed rules with input from Airbnb and other websites and have made a goal of getting buy-in from the sites. They have argued such an approach is necessary to persuade the companies to share with the city the data on rentals needed for enforcing the new rules.
Chris Lehane, Airbnb's head of global policy and public affairs, praised the rules Wednesday.
"It really is going to be a piece of legislation that others are going to emulate," Lehane said. "We're getting calls from cities across the country that are looking at the New Orleans approach and wanting to adopt it as a structure for their cities."
Renting a home or room for less than 30 days is currently banned in New Orleans, but that law hasn't been enforced in years.
Short-term rentals to tourists would be legalized in most areas of New Orleans, with some li…
The plan under consideration, which passed 6-1 on a preliminary vote earlier this fall, would allow anyone who has a homestead exemption on an owner-occupied property to rent a room or a half-double as often as they want.
Entire homes in residential neighborhoods could be rented for up to 90 days a year as "temporary" short-term rentals, whether or not the owners live on the property, and condos and apartments in commercial and mixed-use properties could be rented without restrictions.
All those types of rentals would be banned in most of the French Quarter except for a portion of Bourbon Street.
Each rental would have to be licensed by the city, abide by the city's building code and include certain safety equipment such as fire extinguishers and smoke detectors.
The rental of whole homes has drawn the most fire from opponents, who argue they cut into the city's housing supply and tear apart neighborhoods. An attempt to limit those types of rentals by limiting them to properties with a homestead exemption, meaning the owner lives there, was shot down in October, with council members Susan Guidry, Jared Brossett and LaToya Cantrell on the losing end.
Airbnb has agreed to engage in "pass-through registration," where information on prospective hosts is passed along to the city when they register with the site and those hosts in turn are directed to the city's licensing site. That provision is aimed at increasing compliance, something that's been a problem for other cities trying to regulate short-term rentals.
"What that means is first of all it's really efficient since the city will have all the data as people come on the platform," Lehane said. "They'll have all the tools at their disposal to be able to effectively enforce" the rules.
Trouble seeing the video above? Click here. 
One adjustment being proposed by Councilman Jason Williams would slightly increase the cost of renting out residential properties if the owner does not live on the site, boosting it from a $50 license fee to $150.
Williams said that change would help cover the impact such properties have on the city. "I just want to make sure the cost, the financial cost and cultural cost and social cost to our city is mitigated," he said.
The increase would likely be too little to change the financial calculations investors or property owners will use in deciding whether to purchase a property for use only as a short-term rental, something that would likely still make financial sense in many cases even with the new limits.
"We need to make sure the community is compensated for that impact," Williams said.
Williams said he also plans to introduce an amendment that would increase the fees tacked onto short-term rentals that would go toward providing more affordable housing in the city. As now proposed, visitors would be charged $1 a day per rental, with that money going to the city's Neighborhood Housing Improvement Fund. Under Williams' proposal, the fee would be $1 per bed in the rental.
Williams said getting the proposed rules in place, and arranging to get data from the companies, was an important first step to getting a better handle on short-term rentals in the city. 
"We're reaching a solution that is clearly not perfect but is arguably and I think pretty convincingly the best system to date in any city in the world. It is a big win for the city of New Orleans," Williams said. Even if the regulations don't work, he said, the council will have the information it needs to make them more or less restrictive.
"This is a way to really be strategic and scientific about what's working and what's not working and having an ability to control it or end it if need be," he said.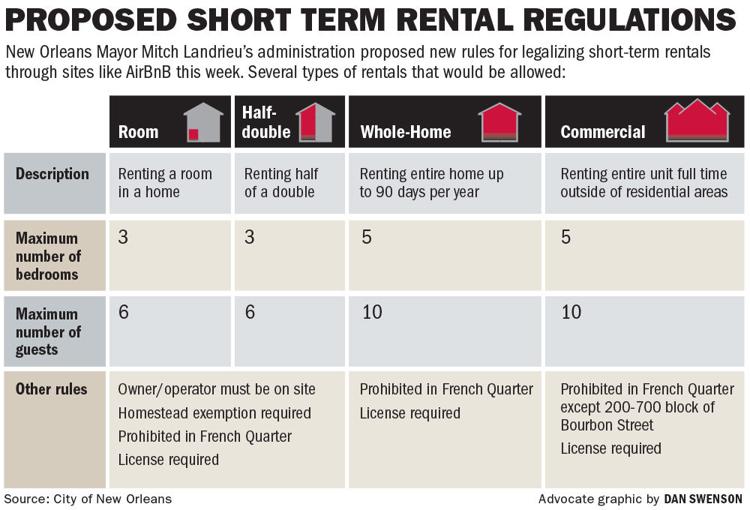 Given the lack of concrete data on how many short-term rentals are operating in the city, and how frequently they're renting out their rooms, it's not clear how much revenue New Orleans will see from legalizing them. 
The Landrieu administration included $927,000 from short-term rentals in the city budget for next year, saying that money would be plowed back into enforcement of the new rules.