On April 19, 1960, the Eisenhower administration escalated its criticism of Cuban strongman Fidel Castro, Jimmie Davis cruised to victory in the Louisiana governor's race — and an unlikely political dynasty was born when a young New Orleans lawyer named Maurice E. Landrieu won a seat in the state House.
The lawyer, better known as Moon, went on to win two elections to the New Orleans City Council, two to the city's highest office, mayor, and finally a judgeship, serving a total of 26 years. His eldest daughter, Mary, was elected to be a state representative, state treasurer and U.S. senator, serving a total of 34 years. His fifth child, Mitch, was elected as a state representative, lieutenant governor and finally mayor for two terms, totaling 30 years. His sixth, Madeleine, won elections to serve 16 years as a judge in New Orleans. Combined, they have spent 106 years in elected office.
In all, except for an 18-month gap in the late 1970s, at least one of those four Landrieus has held elected office in Louisiana over the past 58 years.
Now, with Mitch Landrieu stepping down as mayor on May 7, the long-running political dynasty is coming to an apparent end.
But don't tell that to Verna Landrieu, the family's 85-year-old matriarch.
"You're dead wrong!" she said and pointed to a dining-room wall photo of the extended family. Several of her 37 grandchildren — the oldest is 36 — have shown a strong interest in politics, she said, and might run for office soon.
And don't count out Mitch, who has burst onto the national scene in the wake of an acclaimed speech telling why he pushed to remove four Jim Crow-era monuments from public view in New Orleans. Some big-name Democrats say they expect him to mount a campaign for president, even if Mitch, for now, won't admit that ambition.
Can't see video below? Click here. 
America's most famous political dynasties, of course, are the Kennedys and the Bushes.
On the state level, the Carnahans in Missouri produced a governor, a senator, a U.S. House member and a secretary of state.
In Louisiana, the Longs built a political dynasty with Huey and then Earl serving as governor, their brother George serving in the U.S. House and Huey, Huey's wife, Rose, and their son, Russell, serving in the U.S. Senate. Several cousins have won congressional and state legislative races.
Joseph Kennedy famously groomed his sons for the White House, in part by turning family dinners into debates about current events.
But Moon and Verna Landrieu laugh at the notion that they raised their children to run for office.
"It's not like anybody had a plan. It just happened," said Moon, who is 87.
"Life unfurls, day by day," chimed in Verna, who was sitting next to her husband at the dining-room table of their home since 1960, a raised double shotgun in the racially mixed Broadmoor neighborhood.
The dynasty begins
Moon grew up poor in New Orleans, in a shotgun house Uptown with a small grocery store in the front room that was overseen by his mother. His father, who managed a NOPSI power substation, had a third-grade education, while his mother left school after ninth grade. Verna came from a family of some means, with her father owning a small coffee import business.
Moon, after graduating from Jesuit High School, attended Loyola University on a baseball scholarship. He was intent on graduating and getting into the workforce when Verna, his girlfriend, piqued his interest in student politics and the debate society. The political bug bit him.
As a third-year law student, he was elected president of Loyola's student body. He befriended the law school's first black students, including Norman Francis, future president of Xavier University.
In 1959, four years after graduating from law school, Moon decided to run for the state House to represent the 12th Ward, a pie-shaped slice of Uptown between Napoleon Avenue and Toledano Street. He was little-known, but he and Verna knocked on doors throughout the district every night. Moon, they told voters, would be a strong, independent voice for good government.
With the backing of the Crescent City Democratic Association, the political group headed by four-term Mayor Chep Morrison, Moon won overwhelmingly in April 1960. (Verna was pregnant with Mitch during the campaign.)
In the fall of 1960, Gov. Jimmie Davis called a series of special legislative sessions to try to disband New Orleans' public education system to prevent the integration of the city's schools. During an era in which racists held sway, Landrieu repeatedly cast a lone vote against the segregation measures; he was sometimes joined by another state representative, Sal Anzelmo.
"Back then, it was a courageous thing to do," said Ben Bagert, who was elected to the state House from New Orleans several years later.
U.S. District Judge J. Skelly Wright blocked the legislation, and the schools gradually were integrated. 
Landrieu won so much attention for his stand that, after winning re-election to the House in 1964, he put together a coalition of black voters and white liberals to win an at-large City Council seat by 500 votes in 1966.
He ran for mayor in 1970. The campaign's climactic moment came during a televised debate in the Democratic Party runoff when Jimmy Fitzmorris, a former city councilman who had narrowly lost the race four years earlier, said he would hire the best-qualified people for senior city jobs.
That answer "was code for 'whites,' " said Bob Tucker, then a young black activist.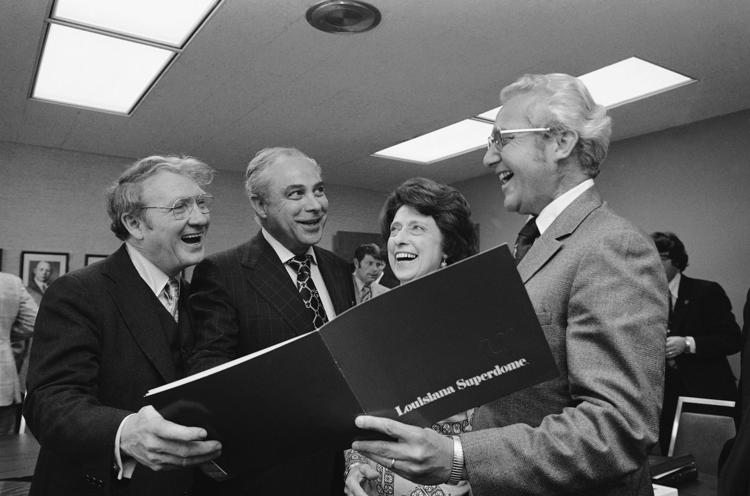 Landrieu said he would integrate City Hall — and he was elected mayor, with overwhelming black support. He followed through on his promise, becoming the first mayor to appoint African-Americans, Tucker among them, to positions of authority.
Unhappy whites "would always call him 'Moon the Coon,' " his daughter Mary said. "You'd be out in public and people would yell something. He would squeeze your hand and say, 'Don't pay attention to it. Just keep walking.' "
The second generation
Beginning with Mary's birth in 1955, Moon and Verna produced a total of nine children over 11 years and gave each one a name that began with the letter "M." (That wasn't planned initially, Verna said.) Family activities revolved around politics. The Landrieu kids canvassed neighborhoods for their father and for candidates supported by their father.
During campaign seasons, the family spent Friday nights and Saturdays working in assembly-line fashion at folding tables to mail campaign literature to voters.
One set of kids and friends might be in the living room stuffing envelopes headed for the 12th Ward while another group would be in the dining room putting stamps and licking the flaps on envelopes for 13th Ward voters. A third group might be carrying out similar work in the kitchen.
"We called it 'licking and sticking,' " Madeleine said. "We had a blast doing it. We didn't think it was strange."
On Sundays, they piled into the family station wagon, headed to Mass at St. Matthias Catholic Church, and then accompanied their father as he toured the city.
After May 1978, when Moon finished his second term as mayor, no Landrieu held elected office. But a little over a year later, after helping elect a family friend to a local office, Mary walked into the kitchen and told her family, "I think I'm going to run for the state Legislature."
Her family thought she was crazy. She was only 23.
Until then, "I never thought I'd run for office," Mary remembered, although she had been student body president at Ursuline Academy, which Verna also had attended. "I thought I'd do what my mother did — I'd marry someone in public office and have nine children."
Mary proved to be a dogged campaigner, following the family playbook of going door to door. Afterward, she would send a handwritten note to everyone she had met. "And then the next day I would do the same thing over again," she said.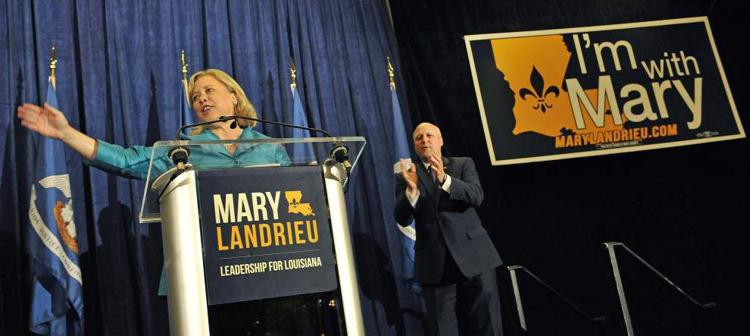 In late 1979, Mary defeated an incumbent, Clyde Bel Jr., to put another Landrieu in elected office, ending the short drought.
"My parents would have been just as happy if I told them I wanted to become a nurse, or go to law school or go to the convent," Mary said recently.
She won re-election in 1983 and then defeated two better-known men to be elected state treasurer four years later. In 1995, she ran for governor and finished third, missing the runoff by 9,000 votes.
After two years of tough campaigning, the loss devastated her. But in 1996, friends began beseeching Mary to run for the U.S. Senate seat that J. Bennett Johnston was vacating.
John Breaux, the state's other Democratic senator, told her it was time for a woman to represent Louisiana.
Mary defeated Woody Jenkins, the Republican candidate, by a hair, and then won tight re-election contests in 2002 and 2008. As a senator, she voted for social programs favored by liberals, strongly supported the state's petrochemical industry and secured billions of dollars in federal aid for Louisiana, especially after Hurricane Katrina.
Mitch and Madeleine
In the meantime, Mitch had told his siblings that he wanted to follow their father into City Hall one day. But he had a competing passion — to be a Broadway star. At Catholic University in Washington, D.C., Mitch majored in both theater and political science.
In 1985, he had a leading role in the musical "Evita" at Le Petit Theatre in New Orleans.
But in 1987, after following in his father's footsteps and graduating from Loyola law school, he ran for the state House seat that Mary was vacating. He won easily.
In 1994, at 33, he made the first of four runs for mayor, finishing a distant third in the primary. He won two more elections to the House and then was elected lieutenant governor in 2003. After losing another mayor's race, to incumbent Ray Nagin, in 2006, and winning re-election as lieutenant governor in 2007, he was finally elected mayor in 2010. He was comfortably re-elected four years later.
Madeleine, meanwhile — after also graduating from Loyola law school — was working as a trial attorney for a New Orleans law firm when friends convinced her to seek a judgeship on the Orleans Parish Civil District Court.
"That's the dumbest idea I've ever heard," her father told her.
"He understood that public office, running and serving, are huge sacrifices for yourself and stress your family," Madeleine said recently. "He ultimately changed his mind."
Madeleine won in 2001, won re-election unopposed and then was elected to be a judge on the state 4th District Court of Appeal, where her father had also served during the 1990s.
"We've never perceived ourselves as a dynasty," said Madeleine, who since July has been the dean of Loyola's law school. "We're a family of nine kids incredibly blessed with incredible parents. We just happened to find an avenue through elected office. Elected office is just one way to serve."
She mentioned how her other siblings have been active in neighborhood groups and in their churches. Maurice, the youngest, is an assistant U.S. attorney who has prosecuted a number of high-profile gang cases.
In 2014, Mary lost her bid to serve a fourth term in the Senate. In 2015, Mitch decided he could not win a race for governor. In both cases, the rising tide of Republicans in Louisiana swamped their ambitions.
"The tolerance for national Democrats at the state level has passed away," said Robert Dupont, chairman of the history and philosophy departments at the University of New Orleans.
A third generation?
Despite their public gregariousness, the Landrieus could turn on perceived foes.
Moon had a combative side as mayor. Mary had a short temper but kept it from public view during her years in office. Mitch is known for punishing or freezing out those who disagree with him. (He has refused to talk to this reporter since the publication of a 2014 article headlined: " 'Enemy for Life': Mitch Landrieu accused of steamrolling those who disagree with him.")
He declined to be interviewed for this story, instead sending a statement: "I am very proud of our family's service over the last nearly 60 years. The one thing I know is true is that we have received far more from the people of New Orleans than we have given."
With no obvious office to seek in Louisiana, Mitch, at 57, seems to have positioned himself for a turn on the national scene. A compelling speaker thanks to his training in theater, Mitch has wowed audiences outside of Louisiana with his story of New Orleans' comeback over the past eight years and his efforts to challenge old racial attitudes in the South.
"Mitch Landrieu still has a great political future ahead of him in terms of running for national office as president or vice president," Breaux said. "He would be a terrific fit for Democrats to consider. He has too much talent to shut it down."
Or if another Democrat is elected president, Mitch could be in line for a cabinet position. Moon served as secretary of the Department of Housing and Urban Development from 1979 to 1981 under President Jimmy Carter.
Regardless of how Mitch's future plays out, Mary believes the next generation of Landrieus is likely to bring the family name back into the public spotlight.
"These 37," she said, "they are something else. They are all bright. They have confidence. They have a heart for their community. They're well-educated. It's going to be interesting to watch."
Judy Jumonville contributed research to this story.