John Fortunato, the longtime Jefferson Parish Sheriff's Office spokesman, kicked off his campaign for sheriff Thursday evening, portraying himself as a law-and-order leader who would place policing over "political correctness" and adopt the no-nonsense approach to law enforcement Jefferson voters knew for decades under former Sheriff Harry Lee.  
Addressing a raucous crowd at the Balcony Ballroom in Metairie, Fortunato said his more than four decades of experience with the Sheriff's Office have prepared him for his "lifelong dream" of serving as sheriff.
He urged the electorate to reject recently resigned Sheriff Newell Normand's hand-picked successor, interim Sheriff Joseph Lopinto, saying he believes in "elections, not coronations" when it comes to public safety.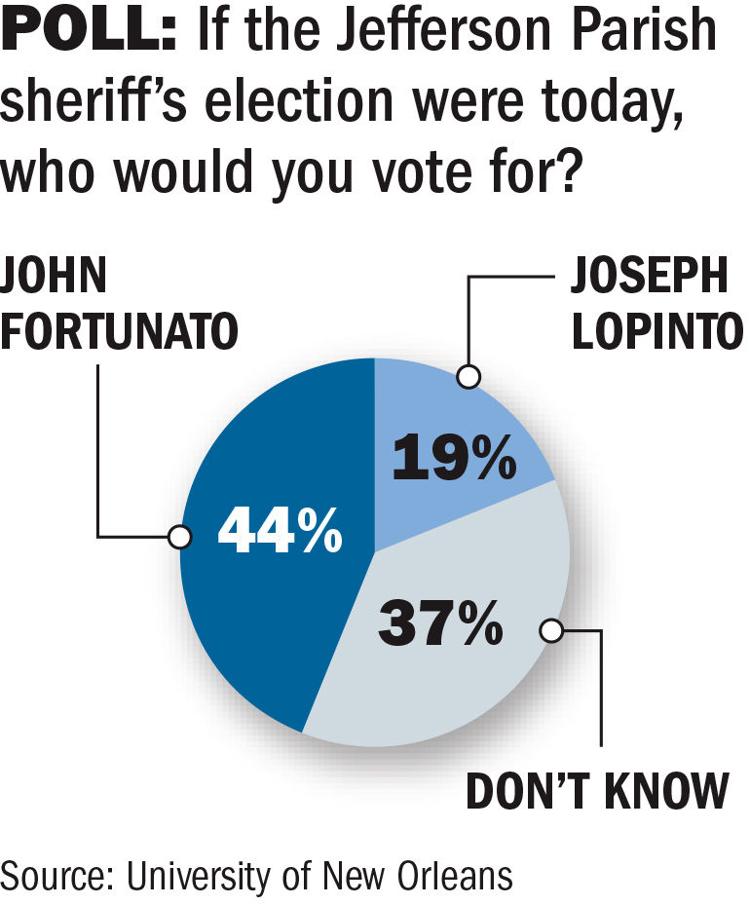 "I admired Sheriff Lee because he was a tell-it-like-it-is leader who had a heart of gold and a spine of steel," Fortunato said. "It was his compassion for people and intolerance for criminals that energized the force behind him. 
"Jefferson Parish is ready for the same rip-crime-from-its-roots sheriff now more than ever," he added. 
If elected, Fortunato vowed to improve relations between the Sheriff's Office and District Attorney's Office and to ensure quick response times. "Our units will be everywhere to send a clear warning to the offenders," he said. "If my officers see something, they will say something."
Supporters described Fortunato as a "cop's cop" who has the institutional knowledge to reduce the parish's crime rate and take the reins of one of the largest law enforcement agencies in the state.
His candidacy was buoyed by a University of New Orleans poll released this week showing Fortunato with a sizable — though very early — lead over Lopinto, the interim incumbent, about five months before voters head to the polls. 
The poll put Fortunato's support at 44 percent, more than double the 19 percent for Lopinto. Respondents were not asked about other possible candidates, and some 37 percent remained undecided.   
Normand abruptly retired over the summer, trading his badge for the WWL-AM midday talk-show slot long held by Garland Robinette. He endorsed Lopinto, who had been serving as chief deputy for about six weeks, calling him the best qualified candidate to take the helm.
Normand dismissed Fortunato's candidacy, saying he had never been in a "command authority situation" and lacked the training and ability to run a large organization.  
The three-day qualifying period does not begin until Jan. 3, with the primary set for March 24.  
A handful of familiar names have said they are considering challenging Lopinto, including John Young, a former prosecutor and Jefferson Parish president; Keith Conley, the parish's chief administrative officer and a former deputy; and Craig Taffaro, a former chief deputy under both Normand and Lee.  
But the field could be narrowing. Young is said to be weighing a run against embattled Parish President Mike Yenni. Taffaro remains under federal indictment, accused of six counts of federal tax evasion and six counts of filing a false tax return.
Conley said Thursday he remains interested in a run and has even assembled a campaign team, though he stopped short of identifying anyone. "It's a little early for polls," Conley said when asked about the UNO survey. "That's why you have campaigns. In the end it's about getting your name, your platform and your qualifications out there." 
Fortunato has lined up a crew of seasoned political operatives, including Greg Buisson, who has managed successful campaigns for Yenni, Kenner Mayor Ben Zahn and, this month, Parish Councilman-elect Dominick Impastato.  
Buisson ran Conley's campaign for a Kenner City Council seat in 2014 and said he offered to work for him again in the sheriff's race. Conley confirmed that offer but said he chose to go in a different direction. 
Fortunato's candidacy had been a poorly kept secret within the Sheriff's Office following Normand's bombshell announcement in late July. He confirmed his intentions when he retired Sept. 19, and his campaign signs are popping up around the parish. 
The UNO poll, an automated survey of 426 registered voters in the parish, reflects the strong name recognition Fortunato gained in his decades of speaking on behalf of Lee and later Normand, a job that included frequent television appearances and regular interaction with the news media.
The poll, which had a margin of error of 4.78 percent, showed Fortunato's support to be slightly stronger among women and on the West Bank of the parish.      
Fortunato joined the Sheriff's Office in 1971, when he was 20, beginning his career under Sheriff Alwynn "Al" Cronvich. He was shot in the line of duty about six years later during a gun battle that erupted as he and other deputies approached a man living in a tent in a wooded area of Metairie.
"There was never a time when I wanted to be anything but a police officer," Fortunato said Thursday. "As a child growing up, I learned that there was nothing more noble than serving the public in uniform."
Fortunato began serving as spokesman of the Sheriff's Office about 30 years ago, a role he retained after Lee's death and Normand's election. 
And while Normand is backing Lopinto, Fortunato has deep ties in the law enforcement community to fall back on. He is the son, nephew and cousin of New Orleans Police Department officers, and his own son, Nicholas, works as a deputy in the JPSO's 3rd Patrol District. 
"Crime fighting is my bloodline," Fortunato said. 
Staff writer Ramon Antonio Vargas contributed to this report.