In a move that stunned the city's political community, Orleans Parish Coroner Dr. Jeffrey Rouse said Thursday that he is calling off his campaign for a second term, likely handing the election to a challenger who was once convicted of felony tax evasion. 
Rouse's announcement came long after the deadline to get his name off the ballot for the Oct. 14 election, which had been a two-way race with Dr. Dwight McKenna, 75, a physician and publisher of The New Orleans Tribune, a monthly newspaper primarily for the African-American community.
Votes cast in favor of Rouse, who intends to complete his first term, will still officially count. If he wins, he would have to then formally resign to avoid serving a second term starting in May, leaving his chief deputy as interim coroner and triggering a special election for the post, state officials said.  
Still, the 43-year-old Rouse took the step Thursday of endorsing McKenna as his successor, congratulating him "on becoming the first African-American coroner of our great city." 
McKenna couldn't be reached for comment Thursday. 
Rouse said he "reluctantly" qualified for re-election in mid-July out of a commitment to serve New Orleans but has since decided to again pursue his profession of forensic psychiatry full time. 
Numerous people close to Rouse said he has grown disillusioned with the political aspects of the job. He hasn't been a particularly active campaigner this year, they said, and he skipped various election events the last time he ran. 
"My strengths are more technical than political, behind the scenes rather than in the spotlight," Rouse said in a statement Thursday. 
He also obviously took the more somber aspects of the job to heart. He once memorably referred to his agency as "the final destination for the ills of humanity, for the violence, the drugs, the accidents, the unexpected and premature departures from this earth." 
Rouse's decision may provide McKenna, a former Orleans Parish School Board member, his best shot at returning to public office after numerous failed campaigns. He ran twice against longtime former Coroner Dr. Frank Minyard.
In a curious parallel to this week's development, Minyard qualified to seek an 11th term in 2013 but then pulled out of the race, endorsing Rouse, his second-in-command, to succeed him. Rouse then defeated McKenna and one other candidate to win the job in 2014.
McKenna has argued that his past experience as a surgeon and his familiarity with trauma would serve him well in the coroner's job, whose primary role is to diagnose and classify how people died, especially in cases of violent deaths. The office also handles committing people to mental institutions.  
But McKenna left his previous role in local government under a cloud of scandal. 
He was forced off the School Board in 1992 and sentenced to prison following a conviction on federal charges that he underreported $367,000 in income to evade taxes. State officials also placed his medical license on probation.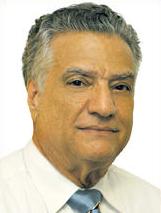 Before he was tried, prosecutors checked into whether there was evidence that McKenna's medical practice had billed for work not done. The grand jury also explored allegations made by witnesses that McKenna had told companies they would have to buy ad space in his family's newspaper if they wanted to do business with the School Board, according to reports at the time in The Times-Picayune.
But prosecutors didn't charge McKenna on either allegation. He filed a defamation lawsuit against The Times-Picayune as well as an insurance company executive who made the claims. But he dropped the case following his conviction, the newspaper reported.
McKenna — whose rights of citizenship were later restored by then-Gov. Edwin Edwards — maintained he did not intend to withhold taxes.
Aside from his bids for coroner, he also has run unsuccessfully multiple times to return to the School Board, insisting that his legal troubles are irrelevant to his fitness for office. 
Having met with McKenna ahead of his bombshell announcement, Rouse said, "I am convinced that his plan for a more public role for the coroner's office in health education and violence prevention is the logical next step for the evolution of this office, now that a strong team is in place and internal processes here have been updated."
If elected, McKenna would become the first Louisiana politician in recent memory to return to office after a criminal conviction, numerous pundits said Thursday. 
Rouse took office in May 2014 after edging out McKenna in a runoff. After Minyard's four decades in office, he inherited an agency that was behind the times technologically and in financial disarray. 
In relatively short order, Rouse secured more funding from the city, brought on new investigators, modernized the records-keeping system and introduced an autopsy protocol meant to boost transparency in cases involving deaths that occurred in police custody, a source of frequent controversy under Minyard.
He began paying the group "Silence Is Violence" to counsel the family members of murder victims, responding to allegations of indifference by his predecessor toward those who had lost loved ones.  
Rouse also oversaw his agency's move into a new $14.8 million headquarters in 2016. The office had been operating out of a fire-damaged former funeral parlor since Hurricane Katrina. 
The Coroner's Office has a budget of roughly $2.6 million and 20 full-time employees. 
After an increase in the abuse of heroin and other opioids caused a spike in overdose deaths, Rouse called on New Orleans leaders to improve addiction treatment rather than prioritize punishing users through the criminal justice system. 
In a campaign finance report filed shortly after the qualifying period last month, Rouse indicated he had nearly $14,300 in his political war chest. McKenna reported having no money on hand at the time. 
When Dr. Jeffrey Rouse took office as Orleans Parish coroner in May 2014, becoming the secon…