More than $2.5 billion in road, water, sewerage and drainage work is planned in New Orleans over the next eight years — a major infrastructure overhaul that will touch all parts of the city.
The first 30 projects in the effort are being designed and are expected to be underway by next year, city officials said Thursday.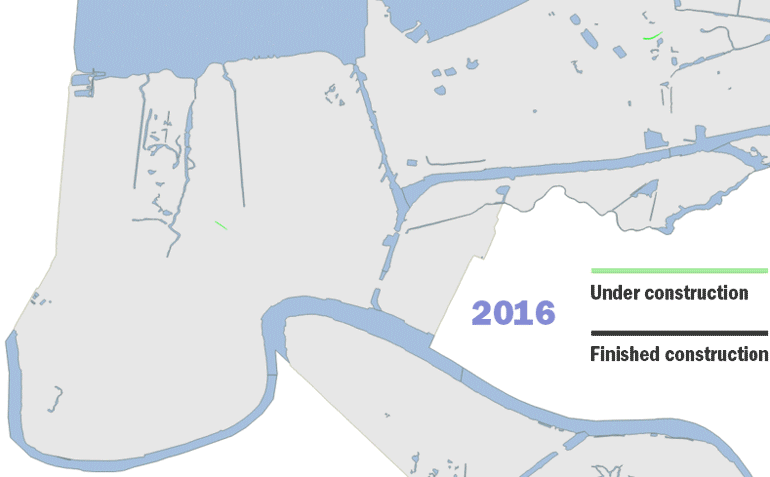 Because of restrictions on how some of the money can be spent, logistical issues related to traffic and other concerns, a street's condition is not necessarily the only factor that will determine how quickly it gets fixed, the officials said.
With residents both clamoring to have their broken streets fixed and at the same time worrying about the detours and delays such work will entail, the city has created a revamped website to guide them through the process.
With potholes, sinkholes, dips, cracks, years of patches on patches and entire blocks that c…
Officials announced the relaunch of roadwork.nola.gov on Thursday, saying the site now includes detailed information on exactly how much work will be done on each block and when it will begin. It also includes evaluations of the conditions of each street taken from a comprehensive citywide survey completed earlier this year.
The site is intended as a guide as the city prepares for the first phase of the roadwork initiative.
Besides the 30 projects due to be underway by next summer, another 54 projects will be in the design phase by then, with a goal of having $400 million in construction completed or underway by the time Mayor Mitch Landrieu leaves office in May 2018.
"Fixing streets is our No. 1 priority over the next year," said Sewerage & Water Board Executive Director Cedric Grant, who also oversees all infrastructure work for the city. "People need to be patient. We're about to take on monumental work in every part of the city."
The surge in roadwork represents a coordinated effort by the S&WB and the Department of Public Works. 
It comes after the city secured about $2 billion from FEMA to cover the cost of replacing pipes and roadways damaged during Hurricane Katrina. Additional money will come from federal grants as well as regular city revenues.
Hailing it as the "last major piece" of the federal funding puzzle for New Orleans' post-Hur…
When all that money is combined, it is expected to amount to a bit less than one third of the $9 billion the city has estimated it would take to completely reconstruct every street in New Orleans.
When the eight-year effort is complete, about 180 miles of roadway will have been worked on and 135 miles of pipes will have been repaired or replaced, officials said. Once the effort hits its stride, officials expect to be starting an average of a project a week.
The projects in the first phase will be largely concentrated in New Orleans East, Lakeview and Uptown, according to the city.
The timeline for the projects is dictated by a number of factors, Public Works Director Mark Jernigan said.
"A lot of it was driven by what FEMA said was eligible (for its money), what the condition of the pavement was, what other funding sources were available and what other work was in the area," he said.
Another key element is which pipe repairs are needed to keep the S&WB on schedule with a federal consent decree requiring major improvements to the city's leaky sewerage system.
Beyond that, city officials have also sought to stage the work so that entire neighborhoods aren't engulfed in construction at one time, Jernigan said.
All of those factors combined mean the worst streets won't necessarily be the first to get fixed. Nor will all streets be rebuilt from the bottom up, Jernigan said.
Federal funding, and the restrictions placed on it, will largely determine whether roads will be completely reconstructed or have less intensive repairs, ranging from minor fixes to entirely new overlays, Jernigan said.
The details on exactly how much work each street will see, as well as its current condition, are available at roadwork.nola.gov.
Officials described the FEMA funding as a unique windfall that could set the foundation for a long-term improvement in the city's infrastructure.
"We're going to do as much work as we possibly can," Jernigan said.