Jefferson Parish President Mike Yenni is in real danger of being removed from office by voters following his admission that he sent sexually explicit text messages to a 17-year-old, according to a New Orleans Advocate/WWL-TV poll.
Nearly half of those polled say they would "definitely sign" a recall petition, said Ron Faucheux of the Clarus Research Group, which conducted the poll for the two news organizations. The firm interviewed about 500 people registered to vote in Jefferson Parish.
To get the matter on a ballot, one-third of the parish's 270,000 registered voters would need to sign the petition, which was filed last week and would force an election on the question of removing Yenni from office.
All told, 69 percent of those polled said they would either "probably" or "definitely" sign the petition. And if an election were called, 72 percent of registered voters would favor removing the first-term parish president from his post, the poll found.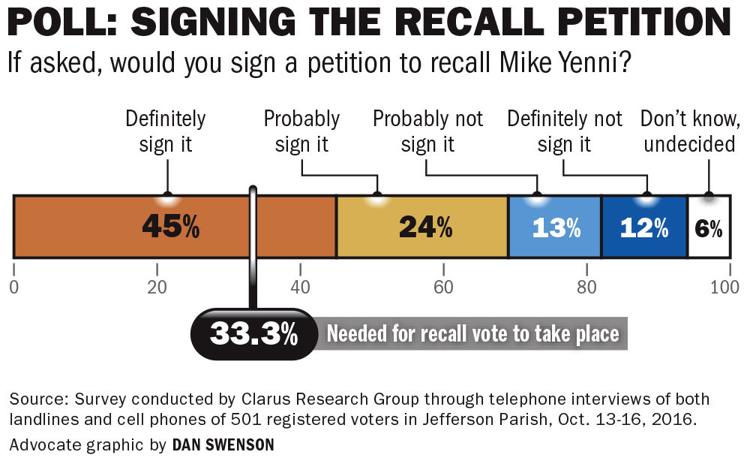 Just 13 percent said they would vote for Yenni to stay in office.
The poll has a margin of error of 4.4 percentage points.
The Advocate/WWL-TV survey comes on the heels of a University of New Orleans poll released last week which found that 79 percent of Jefferson Parish voters want Yenni to resign. The UNO poll, supervised by political science professor Ed Chervenak, did not ask how many people would sign a recall petition.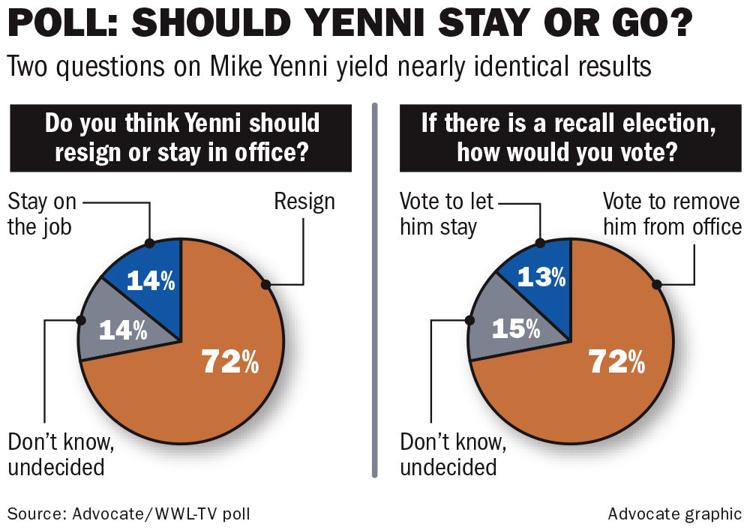 Both polls found that the sexting scandal is almost universally known in Jefferson Parish, with more than 90 percent of respondents to both polls saying they are familiar with it.
Removing politicians from office in Louisiana is notoriously difficult, and both Faucheux and Chervenak cautioned that the outcome of the recall effort — being led by Metairie attorney Roberts Evans III — may depend on how organized the campaign proves to be.
However, the early numbers on the public's mood in the wake of the sexting scandal give Yenni plenty of reason to worry about his prospects of riding out the scandal, Faucheux and Chervenak both said.
"It tells (Yenni) that nothing he's done so far has worked publicly," Faucheux said of his poll's results. "It tells him that a very strong majority of voters in the parish want him out of office. And it would tell him if the other side gets organized — and they do it right — they could recall him, which I think puts some added pressure on him to get out on his own."
Both of the surveys found wide disapproval of Yenni across voter blocs: men, women, Democrats, Republicans and independents.
Yenni's fall has been precipitous. A little over six months ago, he registered an approval rating of more than 70 percent in UNO's annual "quality of life" survey. Now, according to the Advocate/WWL-TV poll, 70 percent view him unfavorably. And 55 percent view him very unfavorably, a figure almost eight times greater than the 7 percent who see him very favorably.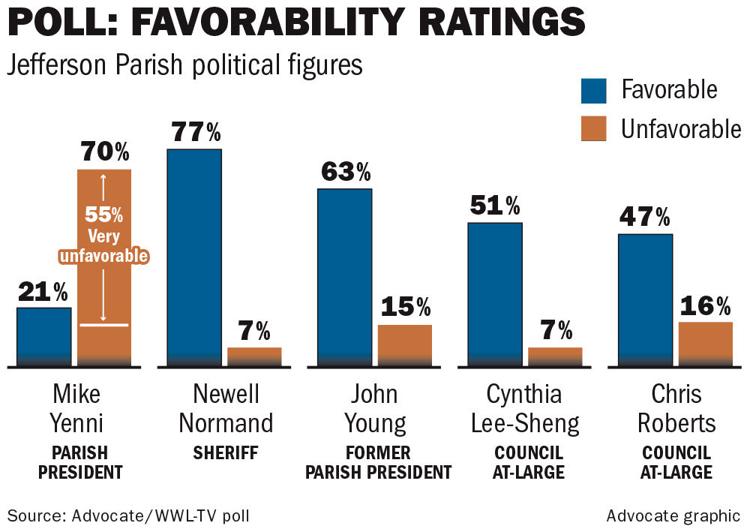 Such a reversal of fortune is about as harsh as it gets in politics, Faucheux said.
"His political standing has been very badly damaged," Faucheux said. "It would take some type of a political miracle for him to recover."
Yenni's ratings stand in stark contrast to those of other prominent Jefferson officials, who are generally well liked. Sheriff Newell Normand, Yenni predecessor John Young and at-large Parish Council members Cynthia Lee-Sheng and Chris Roberts all garnered favorability ratings of between 77 percent and 47 percent, compared with unfavorable ratings of between 16 and 7 percent, the poll found.
Yenni so far has resisted calls from nearly all of the parish's public officials for him to step down. He now runs the risk of becoming the first chief executive of an area as large as Jefferson — the state's second-most-populous parish — to be recalled in Louisiana, as far as Faucheux and Chervenak can tell.
In response to the recall campaign, Yenni has said he would abide by the "will of the people." But he hasn't said precisely what he means by that.
Yenni's camp did not respond to the findings of the UNO poll last week or to the new Advocate/WWL-TV poll, the results of which were provided to Yenni media consultant Greg Buisson on Tuesday.
Trouble seeing the video? Click here. 
For the survey, Clarus conducted live landline and cellphone interviews with 501 voters registered in Jefferson Parish. The 45 percent of respondents who said they would "definitely sign" a petition to recall Yenni equates to 121,000 voters, well over the 90,000 required before an April 9 deadline for gathering signatures.
The recall drive's success will depend on whether organizers can capture validated signatures from about three-fourths of those who would "definitely" sign a petition to recall Yenni, Faucheux noted.
Faucheux said, based on his experience, virtually all petition signers will come from the pool of voters in the "definite" camp, although some of those who said they "probably" would sign most likely will do so.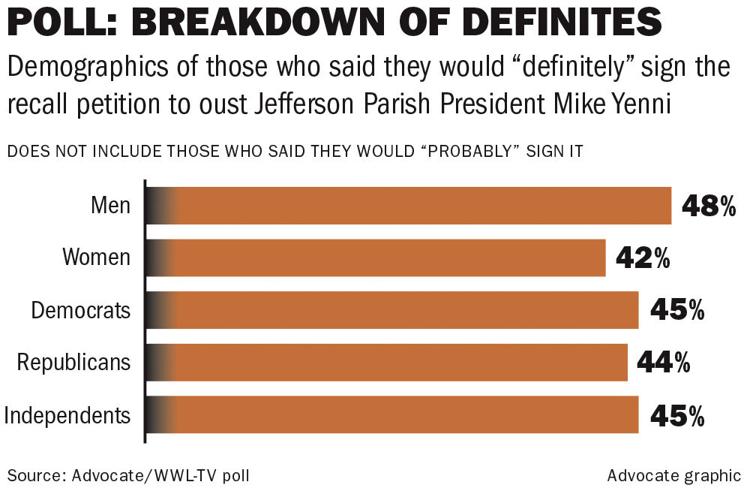 On Tuesday, those in charge of the recall drive said they were happy with the progress they have made so far.
The petition gathered more than 5,000 signatures in the first six days, said Charlene Mahner, a paralegal for Evans, who last week pledged $100,000 of his own money toward the recall.
Organizers expected to collect about 1,000 more signatures at Night Out Against Crime events across Jefferson Parish on Tuesday, after efforts to gather signatures at prep football games and school fairs proved successful, Mahner said.
This week, organizers opened a headquarters in a suite at 1000 Veterans Memorial Blvd., where people can sign the petition from 9 a.m. to 4 p.m. The plan is to eventually extend those hours with help from volunteers, Mahner said.
A few businesses, including Duckworth Tires on Metairie Road and Top Gold Buyers locations in Marrero and Kenner, are accepting signatures. Further, during the Nov. 8 presidential election, recall organizers will set up tables near polling stations — at the required minimum distance of 600 feet — to collect as many signatures as possible.
The campaign, whose online home is RecallYenni.com, has also hired prominent political consultants Karen Carvin and Deno Seder to handle public relations.
Among Carvin's clients are Normand and Lee-Sheng. Some political insiders believe the latter would be a natural candidate to replace Yenni if he steps down or is forced out by voters.
Aside from being popular in her own right, the veteran councilwoman and daughter of the late Sheriff Harry Lee would likely receive support from her legendary father's protege, Normand.
Riven by a scandal that has pitted its chief executive against almost all of the parish's ot…
But last week, Lee-Sheng, who is among the many public officials asking for Yenni's resignation, said she has the job she wants.
Carvin said Tuesday that Lee-Sheng has not given any outward indication she is interested in the parish presidency, though "a lot of people would like Cynthia to run for that seat if it became available."
Yenni has complained that some of his critics on the council "have been and continue to be politically opportunistic," although he has not publicly called out any council members by name.
The Yenni scandal began when WWL-TV reported Sept. 29 that he was being probed by federal authorities for sending sexually explicit text messages to a 17-year-old boy he met at an event hosted by his alma mater, Jesuit High School. WWL-TV said the texts — sent when Yenni was mayor of Kenner and campaigning for the parish presidency — may have violated a federal law that bars sending obscene materials to minors.
Yenni has since acknowledged he sent "improper texts to a young man," apologized, and repeatedly asked fellow elected officials as well as constituents for the chance to redeem himself, casting the scandal as a personal matter.