One game didn't seal the deal. That would be crazy.
No matter how good Buddy Hield was on Jan. 30 at LSU – and he was awfully good – Pelicans general manager Dell Demps wasn't going to decide that night that Hield would be a fit in New Orleans.
Forget that Demps was at the Maravich Assembly Center that night to see Hield sink eight 3-pointers and score 32 points for Oklahoma against the Tigers. That wasn't enough.
But it didn't hurt.
"It was part of the process," Demps said last week after the Pelicans took Hield with the sixth pick in the NBA draft. "You try not to get too excited about one game. I do remember when I left that game, I was like, 'Wow I got a free ticket to this game. This was a game worth paying for.' It was that exciting."
For most of his senior season, Hield was well worth the price of admission.
He certainly was that January night in Baton Rouge. His team trailed by as many as 14 points in the second half, but Hield made seven of his eight 3-pointers after halftime to help lead the Sooners to a 77-75 win over eventual No. 1 pick Ben Simmons and the Tigers.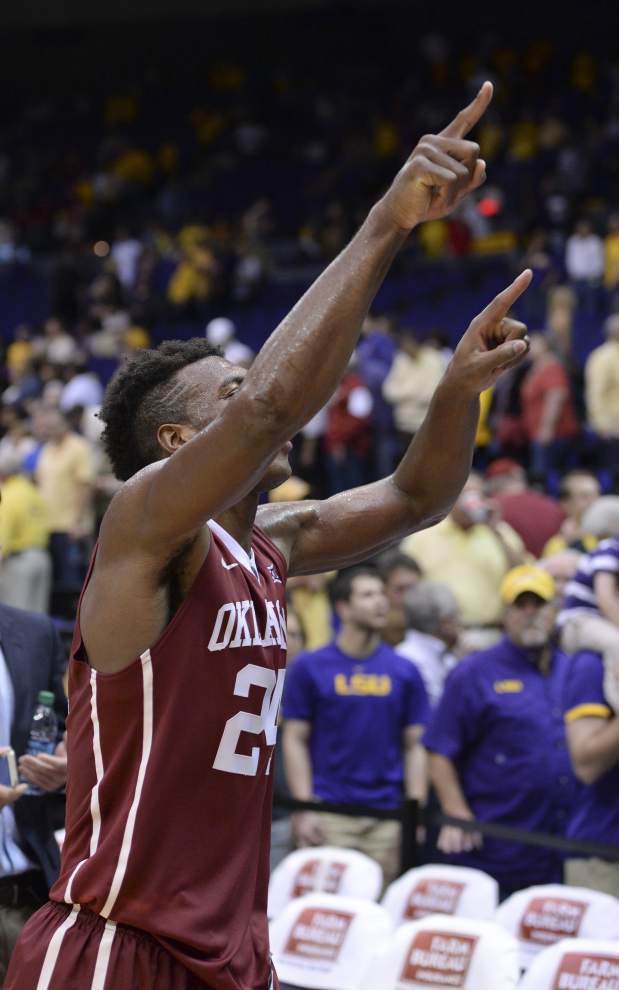 Johnny Jones couldn't fault his team's defense that night. The LSU coach said after the game that his team played Hield with high hands, that it "did a great job of getting in his space." Ultimately, it didn't matter.
"We didn't have much going," Oklahoma coach Lon Kruger said last week. "I thought LSU outplayed us for 30 minutes in that ballgame, and yet Buddy stepped up and made critical shots to get us back into the game. Had Buddy not stepped forward, we wouldn't have won the game. And he did that many times in the year, when he just sensed that the moment is critical and he'd step up and make a shot or make two or three back to back."
Hield's heroics left an impression. And not just on LSU's Jones.
The 6-foot-4 guard averaged 25 points per game as a senior and scored 30 or more points a dozen times in 37 games.
In the NCAA tournament West Regional final, Oregon hounded Hield into six turnovers, but he scored 37 points and 8-of-13 3-point shooting. After the game, Ducks coach Dana Altman said Hield "hit three or four that I thought we guarded pretty good and he just hit them."
And after a second-round NCAA tournament win in which Hield scored 36 points, VCU coach Will Wade called Hield the "best player I've seen in college basketball."
Few coaches got a better look at Hield than Kansas' Bill Self, who recruited him when Hield was in high school and who watched him transform from a 24-percent 3-point shooter as a freshman into an all-around scorer who dropped 46 points on the Jayhawks in a triple-overtime loss on Jan. 4.
"Against Oklahoma, we didn't send three to the glass, we sent two," Self said in a phone interview last week. "And the third guy? 'You go get Buddy.' If you're guarding Buddy, as soon the ball's shot, go find Buddy. Don't block anybody out, don't go for the rebound. Go find Buddy."
That's because Hield was so dangerous, Self said, shooting 3-pointers off Oklahoma's offensive rebounds. That was just one way that the scouting report against the Sooners shifted over time to deal with Hield.
"He creates problems because his confidence level is so high," Self said "He believes any shot is a good shot. And the fact of the matter is, any shot is a good shot for him. The dude can shoot."
He put on a shooting display in Baton Rouge that LSU is unlikely to forget anytime soon. Still, Jones said he's "formed a great liking to" Hield in the months since that game.
Jones had long admired Hield's work ethic, but has gotten to know him a bit seeing him at awards ceremonies – and at last week's draft – as Jones traveled with Simmons. The LSU coach said he was "so excited" to see the local team land Hield.
"I think he's really done a tremendous job with his body, just seeing him at the draft and how much bigger and stronger he looks now," Jones said. "As great as he was, I think he still has a great upside. I think the Pelicans are in for a real treat with a guy like Buddy Hield."