Below are a few questions and answers about the New Orleans Saints submitted to beat writer Nick Underhill.
Do you think JT will get any snaps in during the regular season?
Do you think JT will get any snaps in during the regular season?

— Arnold Bulksenegger (@NYYpinstripe) June 22, 2018
You better hope not. If J.T. Barrett sees the field this season that means something went terribly wrong with Drew Brees and potentially whoever his top backup ends up being.
I think Barrett is an intriguing prospect. He did some things well this summer, which is no small feat considering he's still learning the offense and this was his first exposure to everything, but there is a lot he needs to figure out during training camp. You have to remember Taysom Hill has a head start after spending a year in the system, and Tom Savage has been in the league for a while.
Before Barrett can even think about seeing the field during the season, he first needs to make the team and then beat out both of those players. Nothing is impossible. But life will be a lot better for fans of this team if No. 9 is the only set of digits that shows up under center.
Which udfa(s) do you think are most likely to get on final 53

— Gavin Raftery (@gavinrr1999) June 21, 2018
It's always been my approach to admit when I don't know the answer to something. I'd much rather do that than blow smoke and pass along words that hold no weight.
Gauging much during organized team activities and minicamp is impossible. First, it's a limited exposure, and five practices aren't enough to gather anything other than a first impression. Secondly, the summer is primarily a passing camp. There isn't much happening in the trenches. So, I can't provide much information about defensive tackles Henry Mondeaux and Taylor Stallworth. The same goes for offensive lineman Nate Wozniak. I know he's really tall, but I have no idea how good he is at his job.
Can't see video below? Click here.
All I can provide are some surface observations on a couple of guys. I thought wide receivers Keith Kirkwood and Eldridge Massington showed up repeatedly this summer. Both players have upside, but it is going to be very difficult to make the team at wide receiver. The top four — Michael Thomas, Ted Ginn Jr., Cam Meredith and Tre'Quan Smith — are locks to make the team. That leaves players like Tommylee Lewis, Brandon Coleman, Travin Dural and all of the others fighting for what might be one spot. It's going to take a lot, and perhaps some ability on special teams, for one of these two to crack the roster.
While we're here, it's always interesting to me to see how some of these guys produce in college. Sometimes it goes to show how deep teams scout college programs.
As far as production, the quality of quarterback and offense matters a lot. Kirkwood having 671 yards receiving was probably an achievement in Temple's offense. Massington, however, never had more than 367 yards in a given season. He battled injuries, and the UCLA coaching staff thought he overtrained, but now he has a chance to do something here. 
As for Kirkwood, I spent some time watching some of his tape, and he has a handful of highlights. It's going to be interesting to see what he does this summer (click on this tweet and look at the replies for more clips).
Keith Kirkwood was someone who caught my eye a few times this summer. Went back and watched him a little. Going to tweet a handful of plays.

First: This is just a wild catch. pic.twitter.com/XfaHZmGgks

— Nick Underhill (@nick_underhill) June 22, 2018
As for the others, I'm going to need to see more. Barrett has a shot but will need to prove it. I thought it was a positive sign that defensive back J.T. Gray was getting some work on the kicking team. Special teams value will be significant for all the undrafted players. And tight end Deon Yelder has a good shot given that he's playing a position that appears primed for a UDFA to rise and claim a job, but he was limited in some practices.
And this concludes the longest nonanswer in mailbag history.
Who is Jamies Winston's backup? How much of an impact will his suspension have on game 1.

— Who Dat Fitz (@WhoDatFitz) June 21, 2018
Maybe I'm vastly overrating Ryan Fitzpatrick and not giving Jameis Winston enough credit, but I don't think Winston's reported suspension to start the season changes the Week 1 game against the Saints all that much.
Winston is obviously a better quarterback. Tampa Bay would much rather have him under center, and the Saints probably get some advantage with him being out. But the Bucs have three months to prepare for the first game of the season. With that kind of time, they can tailor a plan to suit Fitzpatrick's strengths and figure out how those things best matchup against New Orleans.
This probably isn't all that different than when Luke McCown started for the Saints against Carolina in 2015 and nearly won. New Orleans came up with what looked like a perfect plan for the veteran backup. He completed 31 of 38 passes for 310 yards. The only blemish was the late interception he threw trying to hit Brandin Cooks in the back of the end zone. The plan was so effective some wondered if the more controlled approach McCown used should be something the Saints adopted more of moving forward.
Now, will Fitzpatrick be as effective? Probably not. McCown played a nearly perfect game. The reason for bringing that performance up is to illustrate how these things work. Losing Winston makes a difference, but it doesn't have to be a massive difference if the coaching staff prepares accordingly.
Besides backup qb, what is the training camp battle where the loser is getting cut?

— Kojo Taylor (@kojo_taylor) June 21, 2018
I'm not sure there are a lot of those battles high up on the roster. And that might not even be the case at quarterback. There are a lot of variables involved.
-- If Savage wins out, it's hard to envision a scenario where Taysom Hill gets cut unless he has a terrible summer.
-- If Hill wins out, does that mean Savage gets cut? Is it worthwhile to have a veteran as the third quarterback?
-- Is a third quarterback a necessity on game day? If Hill is the backup and serves on special teams, the team might need a third layer of protection to protect against injury. If the Saints plan to use Hill in this capacity even if he is the top backup, and it's been floated as a possibility, Savage might have to lose two battles before he's really in danger.
-- Would the Saints really use their backup on special teams? That's something we'd need to see. It's one thing to talk about it in June. It's another thing to do do it in September. The risk becomes even higher if the team views him as someone who could potentially become a starter.
-- Where does Barrett figure into all of this? I'll be interested to see how much they use him during the preseason. If he looks good this summer, it could make sense to limit his snaps to increase the odds of getting him onto the practice squad.
I've said this a few places, but it's crazy to look at the state of the roster now versus a couple of years ago. A lot of the battles we're talking about will be for spots at the bottom of the roster. Vonn Bell and Kurt Coleman will go at it for the starting strong safety spot, and there will be a good battle not only for snaps but also jobs at defensive end. But a lot of the stuff we're talking about is for the final spot at wide receiver, cornerback and tight end.
The Saints are headed out for the summer.
The stakes are high, those jobs are all important, but it's a lot different than it was in 2015. I spent that summer writing stories about Bobby Richardson, Tavaris Barnes and Kaleb Eulls -- three undrafted rookies who ended up making the team on the defensive line. Kasim Edebali's development and his potential to take on a starting role was also a talking point that training camp. Now we're talking about one of the upstarts at wide receiver or Brandon Coleman and how the Saints piece together the roster with so much depth at cornerback.
What happened to those guys from 2015? Richardson started 11 games, was released the next year and hasn't played in another game since. Barnes appeared in 13 games and hasn't played since. Eulls appeared in four games, tried to convert to the offensive line and hasn't played in another game. Edebali, meanwhile, has turned himself into a solid rotational pass rusher.
Crazy to think that some of the guys New Orleans cuts this summer will have a better shot of earning a job somewhere else than the starter at defensive end from a few years ago.
when can we expect updates on the play by play position ?

— Football Season where are you 👀👀 (@SaintRoderick) June 21, 2018
I would assume WWL would like to have its hire in place within the next couple weeks. That person needs to be in place to evaluate the team during camp, and there will be opportunities for that guy to sit with Deuce McAllister during practices and go through dry runs during team periods.
Do u think taysom hill is overhyped by saints twitter?

— 🇲 🇴 🇷 🇬 🇦 🇳 (@morganw1302) June 21, 2018
I'm unsure what the level of hype is out there in the world. Everyone needs to remember this is a guy who has only played a handful of preseason snaps and spent last year running scout plays. This summer has provided the first real look at him in the Saints offense. The results were mixed. There were some great moments, as well as ones I'm sure he would like back. In other words, he looked like most of the other young players trying to settle in.
But if there is hype out there, it's not just coming from fans. The coaching staff and Hill's teammates have also praised him throughout the summer. He has a lot of great tools. The question will be if he can put all of it together and make it work. No one knows the answer to that, but he is an intriguing prospect. Look at some of the stuff he can do.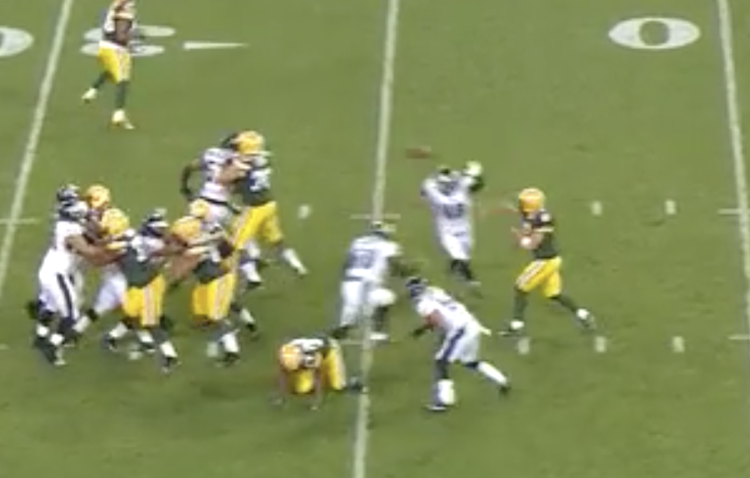 This is an impressive play for a young quarterback during his first preseason appearance. He stood in the pocket while three pass rusher closed in, maintained his poise, and hit a receiver in traffic over the middle for a gain of 14 yards. That kind of poise is either something you have or don't have.
He also does some crazy stuff with the ball in his hands, which shouldn't be a surprise since he displayed his athleticism while contributing on special teams last season.
Taysom Hill does some crazy stuff. Pictures don't do this justice, but the league doesn't like it when I post videos or gifs. I'm not getting sued over a tweet. pic.twitter.com/7cEKhtPvyg

— Nick Underhill (@nick_underhill) June 22, 2018
He has a handful of other plays during the last preseason where he's making things happen with his feet, delivering throws on the run and hitting his receivers from the pocket. Overall, he only attempted 20 passes last preseason, a relatively small sample size, and you have to wonder if Green Bay held him back a little bit with the hope that it could sneak him onto the practice squad.
But we'll see how it goes. I will certainly be keeping a close eye on Hill all summer.
What's your Pre-Training Camp guess on who will end up starting at the three LB Spots and who will have the green dot?

— Ryan (@ryan_la_sports7) June 21, 2018
My early guess would be Alex Anzalone, Demario Davis and A.J. Klein. The Saints like what they have in those three players, and it would be surprising to me if it is any other combination of players.
The more intriguing question is how will they fit together in nickel packages. I would project Davis is on the field on all downs, making him the leading candidate to wear the communication device. He showed off pretty good range during practices, and at one point ran up the sideline with Alvin Kamara in coverage. So, that leaves Anzalone and Klein fighting for the other spot.
Based strictly off physical traits, it could make a lot of sense to have Anzalone out there with Davis when there are only two linebackers on the field. That would give New Orleans a lot of range and two players who can cover pretty well. Now, Anzalone needs to prove capable of handling that job and will need to beat out Klein. So, the projection is just a projection, but it seems that could be the best option if everyone performs as expected.
What do you think the Saints value the most in their LB's? Intelligence/instincts, coverage, run stuffing, or overall speed?

— #GeauxPels (@geauxpels) June 22, 2018
This answer isn't exclusive to linebackers. The team values instincts and intelligence over all else at every position.
There's a reason the Saints have invested so much time and energy in doing mental testing. It's because all the speed and athletic ability mean nothing if players can't diagnose between run and pass or execute their assignments. You saw this most recently with Stephone Anthony. He checked all the boxes as an athlete. When he got on the field, all of that evaporated as soon as he stepped on the field because he wasn't processing everything that was happening.
That's an extreme case, of course. But I think a slow, smart player will always win out over a faster player who isn't as sharp. There will be a few isolated moments where the superior athlete will make a play the other guy is not capable of producing. But over the course of a season, the smart player is going to have more positive plays by simply seeing things quicker and being in the right position to make a play.
The New Orleans Saints have a problem to solve.