Chest heaving, muscles burning, a sweat-soaked Ryan Ramczyk rested on one knee in front of the entire University of Wisconsin-Stevens Point football team, a crowd of conquered contenders staring at their champion.
He had nothing left to prove. 
The Pointers' strength coach at the time, Drew Vanderlin, had devoted the day to a team-wide tug-of-war tournament, a massive bracket Ramczyk subsequently dismantled, whipping contenders one after another as the rest time between matches got shorter and shorter.
Then he found out the final boss was Vanderlin himself.
Vanderlin was the tournament's Bowser, a 6-foot-3, 310-pound monster only a year removed from a stint on the Green Bay Packers' practice squad.
UW-Stevens Point coach Tom Journell had tried to keep it from happening, astutely pointing out that Ramczyk had just completed something like eight or nine matches, while Vanderlin was fresh.
Ramczyk overruled his head coach. The title fight was brutal, a grueling 35-second test of muscle against muscle that Ramczyk ended up winning with one final, devastating pull. 
Now, Vanderlin wanted to make the winner take two out of three for the title.
Ramczyk had every right to refuse Vanderlin's rules change. He had the title, the bragging rights and his head coach's permission to take a break.
The way Journell remembers it, the young tackle rose from a knee and whipped his strength coach again. 
"It taught me a lot about him, his competitiveness. He was challenged, and he didn't back down at all," Journell said. "Talk about grit and determination."
Here are five big storylines for the 2017 New Orleans Saints...
---
Two years earlier, Ramczyk had walked away from the game he loved. 
The decision seems strange now. Phenoms with first-round talent rarely leave football voluntarily; blue chippers head straight to the big time, and the late bloomers carry their recruiting rejection stories around like a cowboy saving one bullet for the man who killed his family.
But none of the life Ramczyk is living now in New Orleans seemed like a certainty when he was 18 years old. Ramczyk, who grew up going to Packers games at Lambeau Field and Wisconsin Badgers games at Camp Randall Stadium, dreamed of playing in the NFL, but he knew it was a long shot.
Stevens Point, the midsize town in central Wisconsin where Ramczyk was raised, is in an area of the state where NFL success stories are hard to find. Only one other player from Stevens Point, Ross Kolodziej, has ever played in the NFL, and Ramczyk didn't catch the eyes of college scouts until late in his high school career.
"He was always tall, long, lanky, but he wasn't very big. His sophomore year on our roster, he was 215 pounds; junior year, he was 245," Stevens Point Area Senior High School coach Pete McAdams said. "Ryan, as skilled as he was, was really a late bloomer when it comes to coming into his own as a phenomenal football player."
Ramczyk found himself in something of a no man's land as a recruit. Desperate to play for Wisconsin — the only Football Bowl Subdivision school in the state is something of a Valhalla for the state's prep players — Ramczyk wasn't awarded any stars by the recruiting services, but he was a first-team all-state lineman whose athleticism and frame meant he had options.
"Going from his junior to his senior year, he had every aspiration to play big-time football," McAdams said. "When he didn't get the opportunity to play at Wisconsin, I think it was kind of boom-or-bust mentality."
The Badgers offered him preferred walk-on status, but he hadn't taken some of the credits required to attend school in Madison and wasn't sure he would be able to enroll. Paul Chryst's staff at Pittsburgh saw the athleticism and offered a full ride, as did a few other FBS schools.
All of those places felt a little too far from Stevens Point, and Ramczyk decided to sign with Division II Winona State of Minnesota instead.
"It was all happening pretty quick, a lot of people recruiting him at both Division II and Division I levels, and he decided Winona State felt good on the visits," his father, Randy, said.
Ramczyk never played for Winona State. He called his parents and told them he had decided to give up football, enroll at a technical college and pursue a career in law enforcement or welding. A little surprised that the son who had loved football from the time he was 4 or 5 suddenly wanted to walk away, Randy and Lori laid out all the options and the outcomes, then supported their child's decision.
At the time, Ramczyk liked the idea of beginning a career right away; Randy believed his son needed a chance to catch his breath. His former coaches say he missed home. 
Ramczyk's lifelong dream of reaching the NFL had never felt farther out of his reach.   
"In high school, I think he was enjoying it a lot and just wanted to move on and play at the next level," Randy said. "I don't think that at the high school level, he was thinking, 'Yeah, I'm going to the NFL.' "
Ramczyk's decision lasted all of a semester at Madison Area Technical College. Early the next year, he called his father and told him he wanted to play football again.
He missed the game too much.
Ramczyk moved home, enrolled at Stevens Point's Mid-State Technical College for the spring semester and got back in touch with McAdams, asking his old coach to help him find a place to play.
"It's probably the best thing that could have happened, taking a break and realizing how much he missed football," Randy said. "If he'd have just forced himself to just do it, he might have ended up not liking it (at Winona State), and who knows what would have happened?"
---
Journell couldn't believe his luck.
He knew about Ramczyk, of course. When Ramczyk was a senior in high school, Journell loved watching him play, but as the coach of a Division III program, he also knew Ramczyk's skills probably made him unreachable for the Pointers.
Now McAdams was calling to tell him Ramczyk was back in town and looking for a way to get back into football.
"I was like, 'Are you kidding me?' " Journell said. "Come on, (these are) things that just never happen. Sure, you can, absolutely. Thank you. Thank you, Lord."
Ramczyk's physical tests immediately justified Journell's prayers of thanksgiving. In at least one case, he was literally off the charts. UW-Stevens Point couldn't measure Ramczyk's vertical jump; the device the school used to measure a player's vertical wasn't high enough to handle Ramczyk's combination of length and explosive ability. 
Far more gifted physically than most Division III athletes and blessed with an innate sense of balance, Ramczyk dominated the Wisconsin Intercollegiate Athletic Conference, a league that includes Wisconsin-Whitewater, the winner of six of the past 10 D-III national titles.
Ramczyk didn't give up a sack in two full seasons. On running plays, he frequently caved in entire defensive fronts. Before games, opposing coaches would approach Journell and ask him where he found his left tackle, then tell him Ramczyk was the best player in Division III.
Journell knew his time with Ramczyk might be short. When he was coaching at UW-River Falls, he'd coached Owen Schmitt, a fullback from the tiny town of Gilman, Wisconsin, who later transferred to West Virginia and played five seasons in the NFL. Ramczyk was good enough that Journell believes he would have been a mid-round pick in the NFL draft even if he had stayed in Stevens Point. 
A coaching change in Madison ended Ramczyk's time with his hometown team.
"The day after Paul Chryst got hired at Wisconsin, Ryan reached out to me," McAdams said. " 'You know, Coach ... you think there's a chance now?' "
---
Wisconsin has a long and storied tradition of finding football stars in unlikely places. 
Jim Leonhard was a 5-8 schoolboy star from Tony, a tiny town in northwest Wisconsin, who walked on, became a three-time All-American and played safety for 10 years in the NFL. J.J. Watt began his career as a tight end at Central Michigan, decided to walk on at Wisconsin after one year, shifted positions and blossomed into the NFL's best defensive player, an absolute monster of a defensive end. 
"Wisconsin does a good job of finding guys at home and really working hard to give every last potential player an opportunity," Badgers offensive coordinator Joe Rudolph said. "The tradition of the walk-on program ... it lives, and it's real."
Ramczyk's favorite Badger-in-the-rough story has always been Mark Tauscher. Tauscher, who played at Auburndale High, a small-town school roughly half an hour's drive from Stevens Point, walked on at Wisconsin and played 11 seasons in the NFL with the Green Bay Packers. 
All Ramczyk needed was a chance.
"I wanted to compete with myself and see how far I can go and see how good I can really be," Ramczyk said. "That's why I transferred into Wisconsin."
McAdams had contacts in Madison. A former college teammate, Bob Bostad, had served with Chryst in Wisconsin earlier in both men's careers, and Badgers assistant Chris Haering was recruiting one of McAdams' players at SPASH. 
Wisconsin was skeptical at first. 
Then McAdams handed over Ramczyk's testing numbers and reminded the coaches that Chryst had recruited Ramczyk at Pittsburgh. 
Chryst was hired in December. In February, McAdams walked into the weight room for a meeting with Kolodziej, now Wisconsin's strength and conditioning coach, and was told he needed to go upstairs to see Rudolph.
"All right," Rudolph said when McAdams walked into the office. "Tell me about Ryan."
Rudolph and McAdams went through Ramczyk's numbers again, writing them on a board and standing back to marvel at the results. Ramczyk's 4.91-second 40-yard dash would have ranked second at the 2017 NFL scouting combine. So would his 9-foot, 6-inch broad jump. A 34-inch vertical would have finished first.
"We don't have anybody in our program who can do this right now," Rudolph told McAdams. 
---
Ramczyk had to wade through the NCAA's red tape, walk on initially and sit out an entire season before he could actually play for the team he'd grown up watching. 
But Chryst, Rudolph and the rest of the coaching staff knew exactly what they had on their hands.
"We do periods that are called emphasis periods," Rudolph said. "Really, what you're doing is, you're taking the first-team defense, and the offense would be kind of made up of your second group, and Ryan was somebody we put in that, just because talent-wise, we knew where he was at. ... He's playing against guys like T.J. Watt and Joe Schobert and Vince Biegel, all three 'backers that were just drafted in the last two years, and he was performing."
Chryst couldn't hide his excitement. 
Before Ramczyk played a down for the Badgers, Chryst was speaking to a group of several hundred high school coaches at the program's annual coaching clinic. 
One by one, Chryst ran through film of the Badgers' recruits, pausing for effect when he got to Ramczyk's. 
"Alright, I'm just going to say it," Chryst said. "This is our best guy."
Schobert broke the news to the rest of the world at the end of Ramczyk's redshirt season. 
Another former walk-on, Schobert was coming off an All-America season and on his way to becoming a fourth-round pick of the Cleveland Browns when a reporter asked him who the best tackle he'd gone against in college was.
Without hesitation, Schobert named Ramczyk. 
The next day, when Ramczyk came off the field, there were about a dozen reporters waiting for him. Randy keeps the picture of the moment in his house.
The moment his son stepped out of the shadows and into the spotlight.
---
Randy Ramczyk is a diehard Packers fan. He'd taken his kids to dozens of games, tailgating in the neighborhoods around Lambeau. In 1997, when Green Bay reached the Super Bowl, he flew into Jackson, Mississippi, because he couldn't find a flight to New Orleans, then drove the rest of the way to see Brett Favre and Reggie White beat the New England Patriots.
Tailgating felt different this time. Dozens of family members and friends were around; a sort of heightened nervous excitement was in the air.
"It's pretty surreal, walking in the stadium, thinking, 'My gosh, we're going to see the Badgers play at Lambeau, and my son is going to be starting at left tackle his first game,' " Randy said.
Ramczyk started a little slow. He hadn't played in a game in more than a year, and LSU's defensive ends had the kind of athleticism he hadn't seen in the WIAC.
By the time the second half started, the player Wisconsin coaches had seen in practice was taking over the game.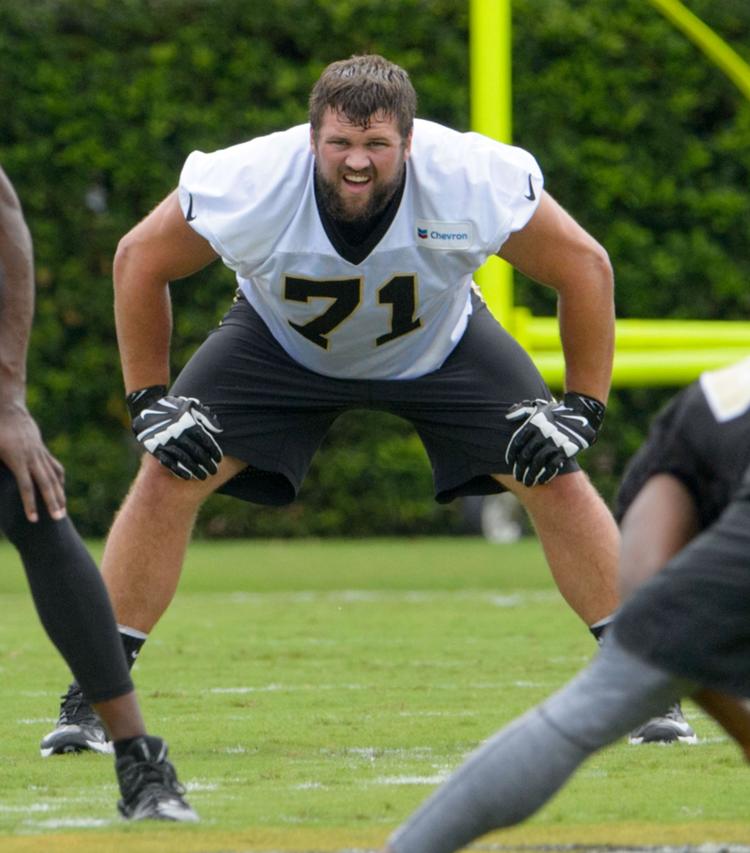 "There's a play in the second half where he's coming through on a combo, and this guy rocks out, and a lot of guys would have lost body control right there," Rudolph said. "He stays up, picks off the play-side 'backer and the back-side 'backer, and the back runs into a big hole right there for a huge gain."
The talent was obvious. Ramczyk gave up just one sack and three pressures in his lone season as a Badger, bursting onto NFL draft boards as the top tackle in a weak class.
Ramczyk suffered a labral tear in his hip and underwent surgery that prevented him from participating in the NFL combine, but he always expected to be ready for training camp.
The question most teams wanted to know was why he had briefly given up football four years ago. Fifteen minutes with the New Orleans Saints was enough to convince them to draft a player they'd rated in the top 15 overall. 
Offensive line coach Dan Roushar likes to get hands-on with draft prospects, walking down to the field at the Senior Bowl every year to evaluate potential linemen, but he couldn't do that with Ramczyk because of the hip. 
All he had was a formal interview at the NFL scouting combine.
"No-nonsense, quiet young man, but there's a determination you can feel about him," Roushar said. "It's part of his presence."
---
Ramczyk was drafted to eventually replace Zach Strief on the right side of the New Orleans line, an annual rite in NFL cities across the country that often leaves the veteran angry at the rookie brought in to take his place.
Strief called Ramczyk shortly after the draft and offered to help the rookie in any way he could, finding out in the process that the rookie shared some of the cerebral approach that has made Strief a walking encyclopedia on offensive line play. 
Ramczyk spent a week with Strief on his own this summer learning offensive line play at the next level, and the veteran tackle learned what Ramczyk's coaches at every level have all said about the rookie: He has an incredible ability to learn a concept and apply it almost immediately. 
"I love his work ethic," Strief said. "He's just willing to work. If you're willing to work and you have that kind of talent, we can make you as good of a football player as you want to be."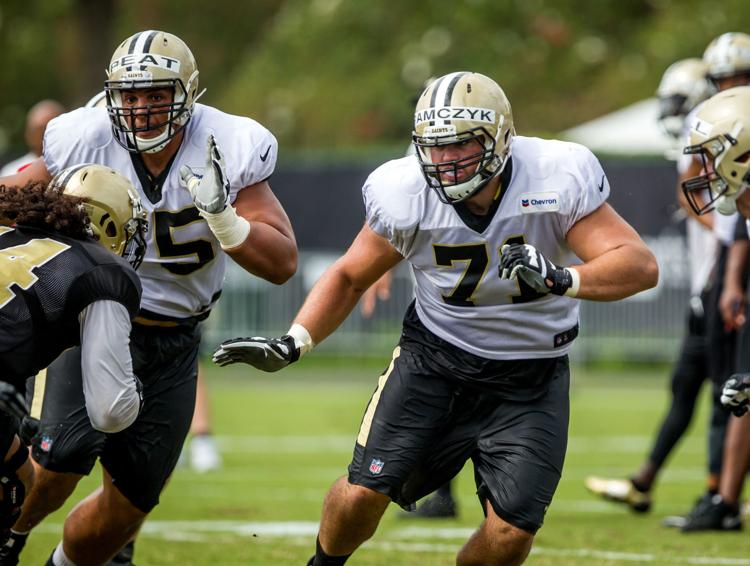 New Orleans needed him to be ready faster than anybody expected. When Terron Armstead tore a shoulder labrum and underwent surgery in June, Ramczyk became New Orleans' best option to start the season at left tackle.
When the Saints open the season at Minnesota on Monday night, Ramczyk will be the first rookie to start an opener at left tackle since Jim Dombrowski in 1986, and he'll be doing it in the Vikings' stadium, an easy three-hour drive for Randy and the rest of his family.
Hard to believe he ever considered giving up football. 
"When I did leave the game, it was kind of a shock," Ramczyk said. "I'd been playing football my whole life, so to not have it anymore, it really hit me hard. Ever since then, I've had a full head of steam going forward, trying to be the best player I can be."
Ramczyk's story now is vintage Wisconsin football, a small-town kid who ended up being far better than anybody imagined.
Sometimes the unlikely road is the right one.