Cam Jordan used an elaborate metaphor to explain his performance against the Detroit Lions on Sunday.
It involved masks, the Joker, and a remembrance of Heath Ledger, who famously played Batman's nemesis in "The Dark Knight Returns."
The New Orleans Saints have spent the past few seasons making the mind-blowing seem mundane,…
"There's a Joker line in there somewhere. You put the mask on (and) it shows your true self, or something along those lines," Jordan said. "... But that being said, when you get your mismatch, you've gotta take advantage of it, and that's what I had to do."
You have to do a lot of untangling, but once you straighten things out, his words seem fitting. Jordan was a menace during the Saints' 52-38 win. The Joker wins in this story, and there was no caped crusader to save the day and bring solace to the Motor City.
Jordan, along with his teammates, beat the Lions into the ground on defense. In doing so, the New Orleans defensive end showcased why he should be considered one of the best defensive players in the NFL.
"Cam's different," defensive tackle Sheldon Rankins said. "If people can't watch his tape and say he's one of the top five defensive players in this league, you aren't watching the same tape I am."
It's hard to know where to begin in describing Jordan's performance, but it's probably best to start at the end. The Saints threatened to turn what should have been a celebration of dominant performances from both the offense and defense into one of the biggest chokes in history.
The story you should be reading is about how New Orleans achieved offensive balance and used it to complement a swarming defense, which recorded five sacks, defended 16 passes, intercepted three, recovered two fumbles and scored three times. And the offense had more rushing yards than passing yards, which is an unfathomable achievement in this city.
Here's something you haven't seen from the New Orleans Saints lately:
Kenny Vaccaro had never scored a touchdown.
If the Saints hadn't let a 45-10 lead shrink to 45-38 in the fourth quarter, this story would be about how New Orleans went heavy throughout this game. The Saints only used three-receiver personnel on 22 of 68 snaps, which is a big change of pace for this team, especially after using three or more receivers on 35 plays against the Lions last season.
Maybe there'd even be a section detailing how New Orleans got it right by deciding to ship Adrian Peterson, who had a big day in his debut in Arizona, out of town and move forward with just Mark Ingram (25 carries, 114 yards; five receptions, 36 yards) and Alvin Kamara (10 carries, 75 yards; four receptions, 12 yards).
But this game wasn't about any of that. All of it went away in the second half when the game started to get out of hand. But Jordan then made what might have been the most important play of the day with a little more than five minutes left.
It's one thing for a player to get his hands up and bat a ball. The Saints did it 16 times on Sunday, after having only 15 combined the previous four weeks. It's another thing for a player to stunt to the other side of the line, get his hands up, bat the ball and then catch it for a touchdown, which is what Jordan did to cement the victory.
"It's the perfect moment," Jordan said. "We were only up by 7, or whatever it is, and I had been talking to the defense about how we need to be the ones to take over this game, and that helped seal it. So, phenomenal."
But it wasn't just that play. There was Kenny Vaccaro's interception, when Jordan stunted to the middle of the line, recognized the pass was going to Theo Riddick in the flat and then knocked the ball out into the safety's hands. Or the pressure he created that forced Matthew Stafford to step into the waiting arms of Vonn Bell for a sack. Or the play when he used backup right tackle Brian Mihalik's body to record one of Jordan's two sacks.
It was as disruptive of a performance as any Saints player has had on the defensive line since the team was last above .500 in 2013.
"He's an elite defensive end. He's going to affect the rush," Vaccaro said. "He's going to affect the run game. He's going to bat balls down. He's going to help us a lot. In the secondary, we love players like Cam. He had an unbelievable day today. That's what he does."
But the best thing about the day for the Saints is that it wasn't just about Jordan. The whole defense showed up. There are things the team will want to clean up. Detroit converted far too many third downs, some of the coverages broke and there were a few too many long runs. But the defense only gave up 24 points and almost covered that total by scoring three touchdowns.
And while Jordan's moment will be the one remembered because of the situation, there were several other key plays. Vaccaro's interception was huge, and he also recovered a fumble forced by Alex Okafor in the end zone to open the scoring.
Marshon Lattimore, who only allowed three catches for 24 yards, intercepted a pass and returned it for a touchdown and made a key play on fourth down right before halftime to save a touchdown. Then there were all of those broken-up passes, a key to holding Stafford to 48 percent passing.
When New Orleans traded Adrian Peterson away to the Arizona Cardinals for a sixth-round pick…
The Saints knew the Lions quarterback wanted to get the ball out quickly, and one of the ways to combat that was to get in the passing lanes and have the defensive linemen get their hands up. Those players accounted for seven of the broken-up passes, but the coverage behind them contributed, too. Lattimore broke up two, Vaccaro three, and Ken Crawley one.
"Especially with Stafford being limited as far as his mobility passes, we knew the passes were going to come out quick," Rankins said. "They were going to try to get some of their guys open in space across the middle. At that point, you become a pass defender. Get your hands up and get in the passing lanes."
This is the third game in a row the defense has performed well, and the players are starting to believe that the first two games, when New Orleans was beating itself with mental errors, were an aberration. They believe this is who they are.
Linebacker A.J. Klein would know. He played on some special defenses in Carolina before signing with the Saints this offseason, and he's starting to get the same vibe from this group. But there's still work to be done to get there.
"Last week we had a shutout; this week we (wanted) to hold them to less than 38, obviously," Klein said. "I think we're doing our part. It's a long season, but we're going to continue to grow and mature. We're a young defense that is growing and maturing fast."
Some men just want to watch the world burn. This Saints defense is hoping they get to watch a lot more fires this year instead of being the ones trying put them out.
---
FIRST QUARTER - Saints down punt on 1 yard line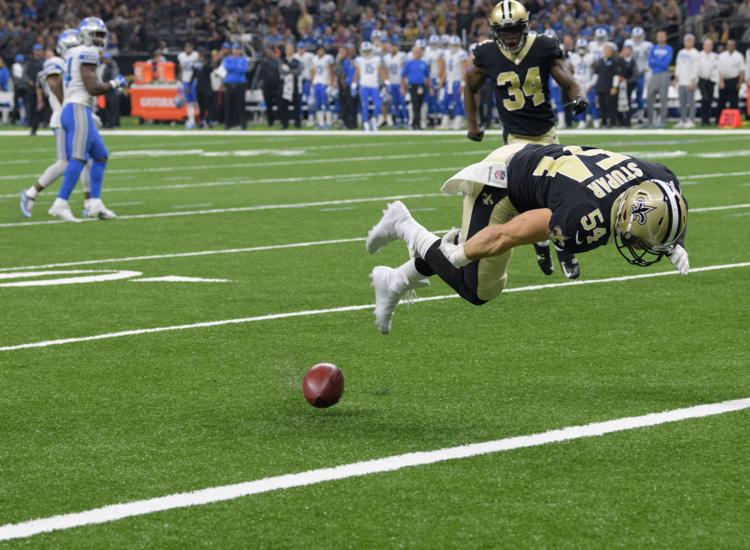 FIRST QUARTER - Alex Okafor strips ball from Stafford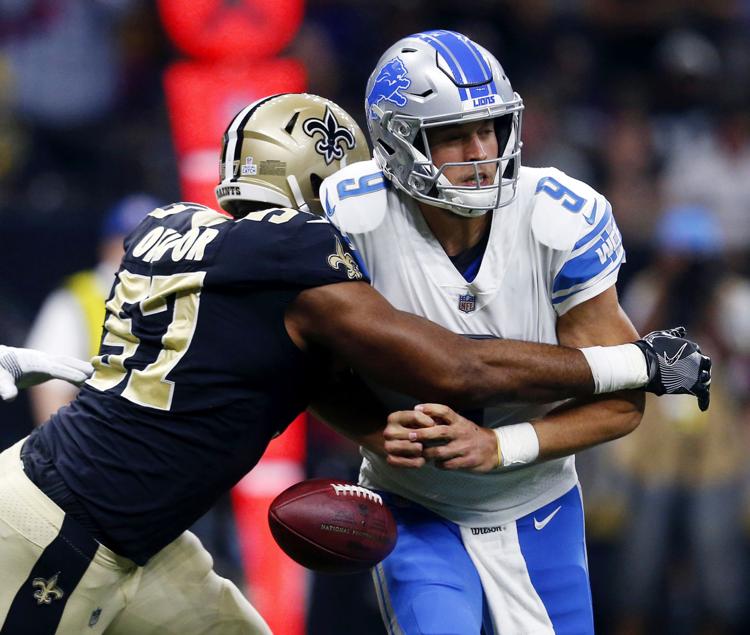 FIRST QUARTER - Kenny Vaccaro recovers stripped ball for TD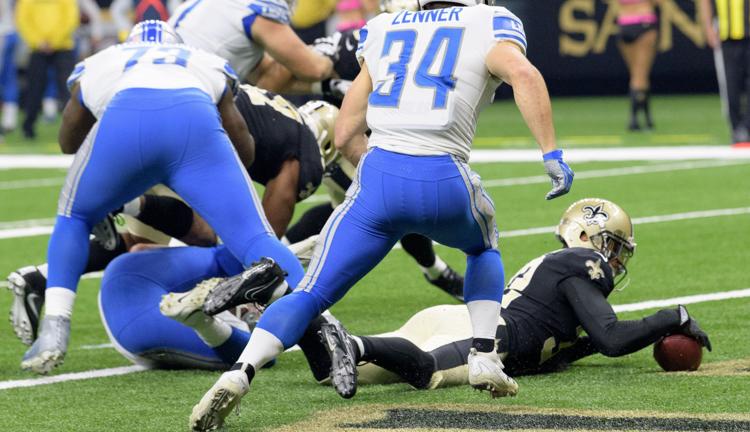 FIRST QUARTER - Saints' Ted Ginn dives for TD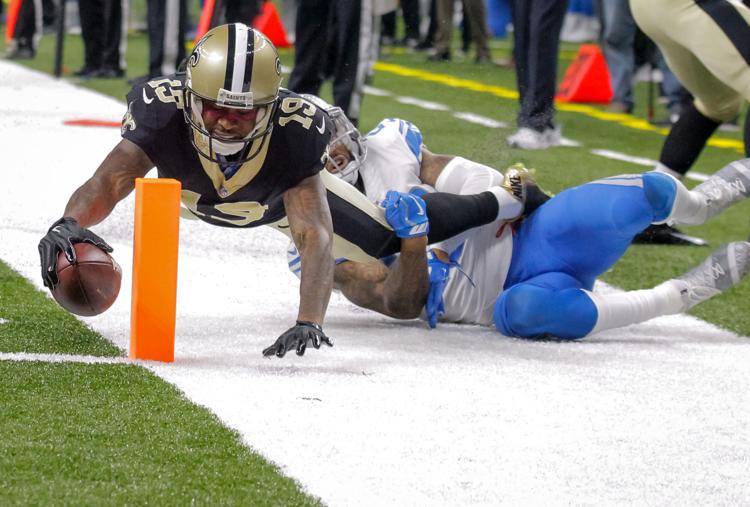 SECOND QUARTER - Alvin Kamara leaps over defender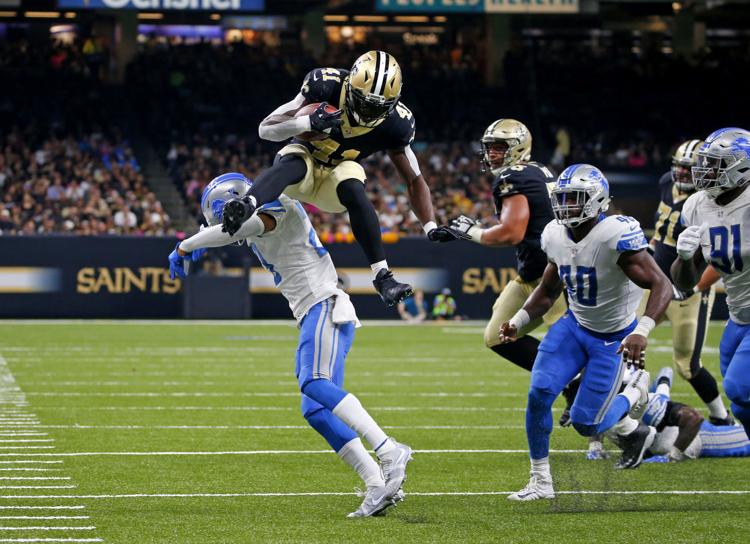 SECOND QUARTER - Saints' Craig Robertson strips ball, scoops it up
END OF FIRST HALF - Saints celebrate goal-line stand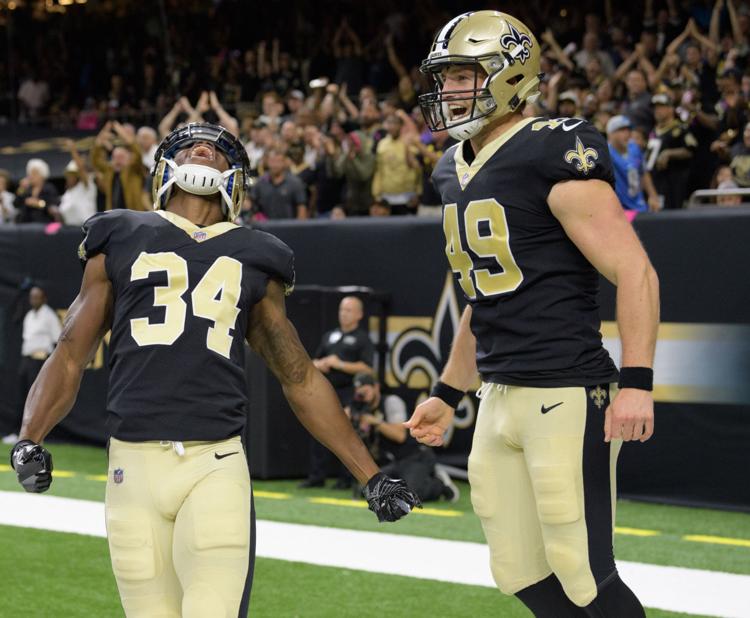 THIRD QUARTER - Drew Brees, Michael Hoomanawanui celebrate TD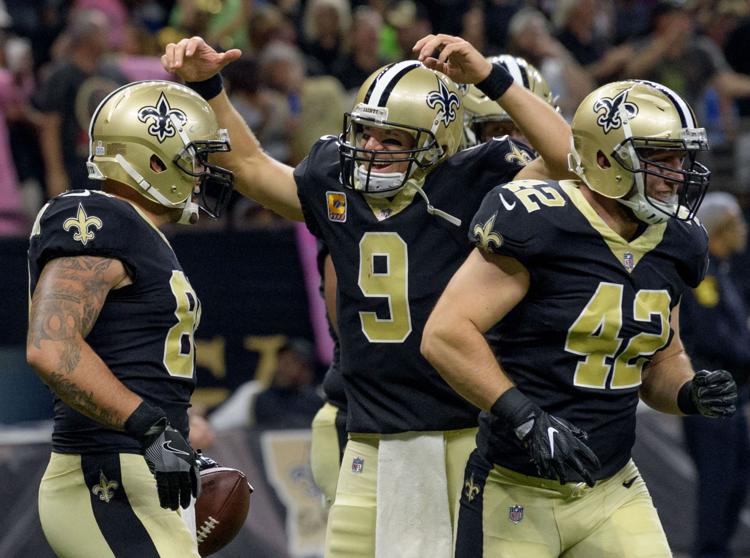 FOURTH QUARTER - Cameron Jordan celebrates Pick 6
FOURTH QUARTER - Kenny Vaccaro intercepts to end late threat