Atlanta running back Devonta Freeman accused New Orleans Saints coach Sean Payton of making a choking gesture at him in the fourth quarter of the Falcons' 20-17 victory over New Orleans on Thursday night.
Payton denied making the choke signal at Freeman after the game, saying he did not remember doing that. 
Freeman told reporters he believed the motion, which cameras showed Payton doing while the Falcons were driving with 12 minutes left to go in the game, was directed at him. 
"Man, I saw it,'' Freeman told reporters in the Falcons' locker room. "That man don't know nothing about choking. He ain't from where I'm from. He don't know about choking. He's a good competitor. The 'competes' probably came out. But we don't let that bother me. He don't know nothing about choking.''
Soon after the game, Freeman tweeted the eight-character insult, "AINTS lol," then deleted the tweet shortly thereafter.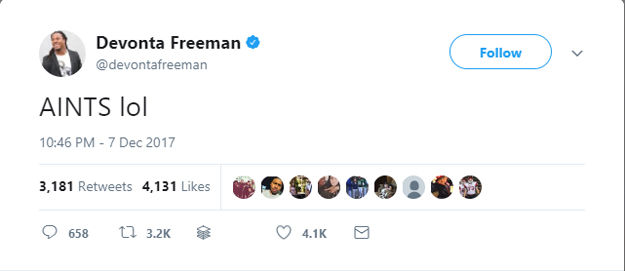 Payton appears to be talking to the referee at the end of the clip, which casts some doubt on whether or not the choke signal was aimed at Freeman. 
Under NFL rules, players and coaches are subject to a 15-yard penalty for making motions that evoke violent actions. 
ATLANTA — The New Orleans Saints headed into Thursday night's showdown with the Atlanta Falcons staring down a chance to essentially clinch th…