AMPOL, a Louisiana-based environmental cleanup and decontamination company, has created new devices that use two technologies to eliminate and sterilize nearly all air particles. The devices are now available in Louisiana to keep schools and other public spaces safe.
The devices use HEPA (high efficiency particulate air) filtration technology that is designed to capture 99.97% of all air particles, with added UV-C light that sterilizes viruses, mold or other dangerous particles in the air or on surfaces.
"We have married the two technologies in a way that nobody else has done," said AMPOL Chief Executive Officer Kirk Headley. "It basically pulls air through the filter and captures 99.97% of the particles, then releases much cleaner air on the other side. What does not get caught in the filter is exposed to the UV-C light and sterilized. It's essentially a double scrubbing of the air."
The air sanitizer boxes are ideal for classrooms and school offices since they can be used when students and staff are on the premises. The boxes can also be set up in school hallways overnight, with classroom doors left open, to disinfect airborne virus particles in a single hallway.
"The best method would be to install one for each hallway in the school," Headley said.
For gymnasiums or other large spaces, AMPOL often uses its UV HEPA Hogs, which are large industrial fans equipped with a UV light and HEPA filters. These must be run when people are not around because of the high velocity of the fan speed.
The UV devices can be used in multiple settings in addition to schools, including hotels, restaurants, office buildings, health facilities, retail stores, pharmacies, grocery stores, malls, entertainment venues, concert halls, exhibition centers, stadiums, cruise ships, government facilities, hospitals and movie theaters.
Headley said AMPOL developed the UV devices earlier in 2020, around the onset of the COVID-19 pandemic. The company has all necessary disinfection licenses and experience working in a variety of settings, including anthrax cleanup and other hazardous cleanup, among other projects.
"We saw the need to make a better machine for cleaning the air," Headley said. "We came up with the idea of using what's already there, but making a machine to fit on the back of the negative air machine. As far as I know, we are the only ones to have done this."
The devices differ from foggers, sprayers and other disinfection apparatuses because those only disinfect surfaces. Standard disinfection equipment has no effect on virus particles found in the air.
"With our UV equipment, we do not just kill the virus particles. We also circulate clean, virus-free air back into the space we are disinfecting," Headley said. "With AMPOL, we protect against all methods of contracting the virus, both high-touch surfaces and airborne particles that contain the virus."
That means that parents of school students can be reassured that surface and air disinfection actions are taken, and best efforts are made for their children to be safe at school.
"With AMPOL, the school can get certified results from Ampol's preventable methods that are being used in terms of combating the virus and continue to be used nightly to assure that their children are arriving every morning to a hospital grade environment," Headley said. "I think the fact that our machines can run nightly presents the biggest advantage we have over our competitors, which only provide a one-time or weekly disinfection using foggers and other standard equipment."
Headley said AMPOL has 20 to 25 of the devices available for purchase or rent. AMPOL teams have been using them for several months on disinfection jobs.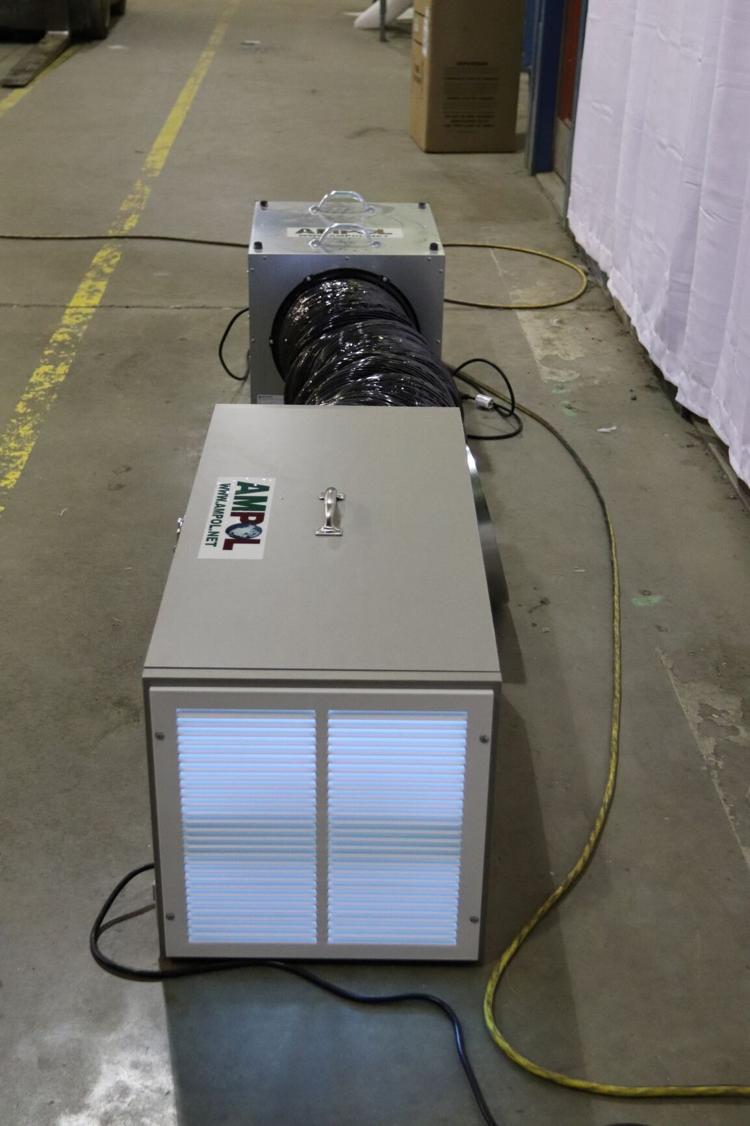 "We've been using them on most every disinfection job we do," Headley said. "We've used them in hotels, pharmacies, offshore living quarters, offshore platforms, schools, universities and offices. We've used them in a lot of industrial settings, and because we have provided different sizes of the machine, it allows us to use them in any size space."
Headley said AMPOL has worked with its certified industrial hygienist as its teaming partner to make sure the devices are as effective as possible. Their work and research has shown that the air in a room or space is sterilized if it is exchanged six times per hour.
"Basically, we use the height, length and width of any room to calculate the CFM needed," Headley said. "When we are filtering the air six times per hour, that is considered to be sterilized and hospital-grade clean."
Headley said each box is sealed, and a latched door covers the UV-C light portion. A latch is attached to the box to keep it closed in place, which allows the door to be opened when the bulb needs to be replaced. While the boxes are safe, Headley said people should not look directly at the UV-C light, since it can harm the eyes, similar to the effect of looking directly at the sun.
"Our boxes are designed where the light is enclosed," he said. "When the box is on, you never should open the lid. It has to remain closed."
Since the boxes are safe, Headley said they can be operated with professional oversight in spaces that are occupied, such as schools that are in session or during business hours when workers are present. Some AMPOL clients have the boxes running during those times, when other AMPOL disinfection work is taking place. For other clients, that work takes place after hours.
"With our system, it can be done when people are there because it is a sealed system," Headley said. "The only sound is when the fan is pulling air through the filter, so that is something people sometimes consider."
Headley said the devices have been proven to work. When AMPOL conducts a disinfection, its staff first test the high touch surfaces before cleaning. After cleaning, clients are shown before and after real-time information to show how effective AMPOL's process is when it comes to disinfecting viruses and other substances.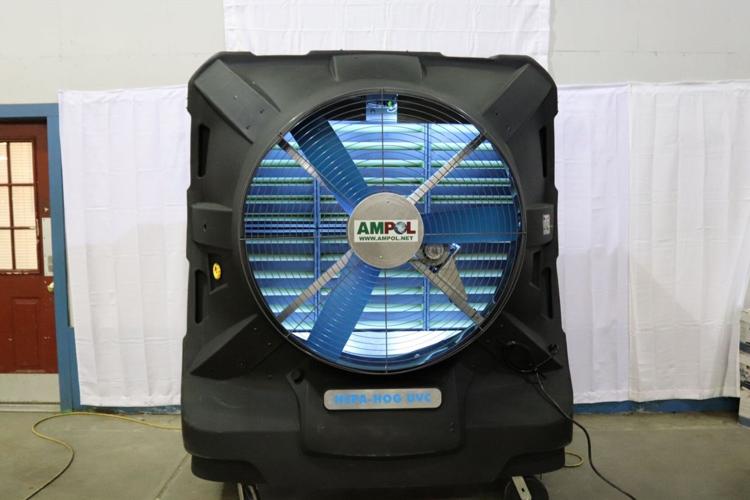 "We are always pushing ourselves to be the disinfection leader," Headley said. "This device gives us a much more comprehensive cleaning of the air, along with AMPOL's proprietary surface cleaning techniques. This helps us achieve hospital-grade cleanliness for our clients."
Headley said some companies that manufacture air conditioners are using UV-C technology. In those cases, a special UV-C box is installed in the air handling system to ensure cleaner air inside a home or building.
"This is going to become more common," he said. "I imagine there will come a day when you won't be able to buy an air conditioner without this. Cleaner air is healthier for everyone."
The AMPOL corporate office is located in New Iberia. Other AMPOL facilities are in Bayou Vista, Chalmette, Venice and Port Arthur, Texas. For more information on AMPOL and its services, visit www.ampol.net.
The statements made within this article have not been evaluated by the U.S. Food and Drug Administration. These statements and the products of this company are not intended to diagnose, treat, cure or prevent any disease.