Ignace Broussard celebrated his 70th birthday this summer at Camelot Place Senior Living in Crowley. Not so long ago, the Kaplan native had no intention of living to see the landmark birthday. Even so, this is not a sad story. Instead, it's a story about a man who got the help he needed and turned his life around.
"When I came here I wasn't a people person," said Broussard, or Mr. Bruce as the folks at Camelot call him. "I told my neighbor that the doctor wanted to send me here, but I didn't like to be around lots of people. She told me to give it a try because being alone is how I ended up getting so depressed."
Cynthia LeBlanc, 53, lived down the street from Broussard in Kaplan for 25 years. She helped him run errands. LeBlanc was the person Broussard called shortly after his darkest moment. In the summer of 2018, after a tense family phone call, Broussard decided to take his own life. He used a razor blade as a knife to stab himself and waited alone in his home to die.
"He called to tell me he was thirsty and asked for a water and Sprite," said LeBlanc. "He was so tired and weak that he couldn't get to the house to get a drink. When I got there, he had bloodstains and pulled up his shirt to show me what he had done."
According to research by the National Institute of Mental Health, more than two million of the 34 million Americans age 65 and older suffer from some form of depression. Comprising only 13 percent of the U.S. population, individuals aged 65 and older account for 20 percent of all suicide deaths, with white males being particularly vulnerable.
In the months that followed Broussard's suicide attempt, he lost so much weight that his doctor believed he had cancer. He was hospitalized and learned that severe depression was causing the weight loss. The doctor prescribed Zoloft and recommended that he move to Camelot Place. Despite his initial resistance, Broussard has come to be grateful that his neighbor talked him into giving the senior living facility a chance.
According to a National Mental Health Association survey, approximately 68 percent of adults aged 65 and over know little or almost nothing about depression, and only 38 percent of them believe that depression is a "health" problem. They're also less likely to seek help, trying to handle it themselves.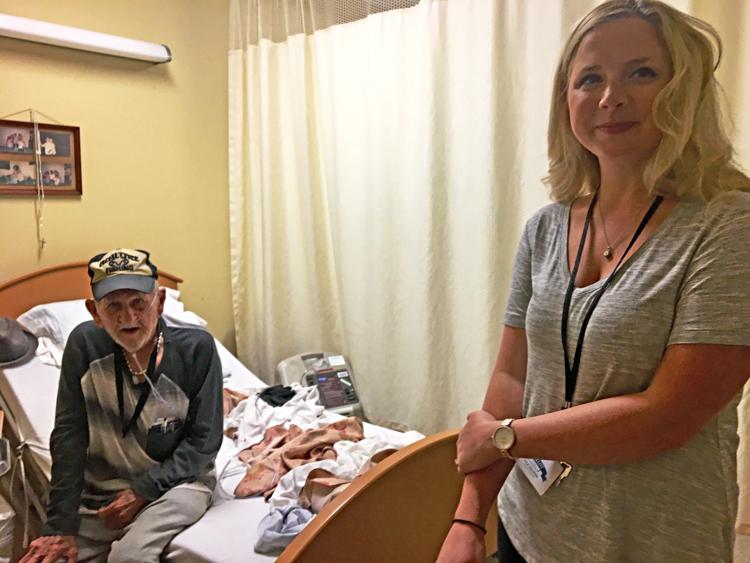 One of his first acquaintances at Camelot Place was Kyla Louviere, the social service director. Louviere noticed that Broussard had very few belongings, and he was severely underweight. She took it upon herself to make him as comfortable as possible and arranged for him to get the mental health services he needed.
Broussard appreciates Louviere's kindness toward him. Her compassion paired with his new home and medical attention has helped him to become a social butterfly in comparison to the isolated existence he knew for so long.
These days, Broussard joins his friend Larry and a few other guys every morning to drink coffee and discuss the previous day's events. According to Broussard, Larry knows how to make good coffee — and the word is getting out. Sharing the coffee with a bigger crowd is cutting down on the coffee consumed by all. Broussard said he also enjoys playing Bingo and has been trying to get a group of people to join him for card games.
"I have been trying to start playing poker with the guys, but they're all being sissies," he said. "They like to go to sleep so early, but I would rather stay up, play poker and win a few dollars. I know they would enjoy getting together shooting the bull every night — and Larry could bring coffee."
Broussard no longer holds the belief that he is not a people person. In fact, he says that the people are his favorite part of living at Camelot. He says the nurses are nice, and he gets along with the men and women who live around him. He still has bad days every now and then, but the residents and staff check on him and do what they can to help lift his spirits.
All three of Broussard's daughters live in Beaumont, Texas, and he is proud of the women they have become. He is thankful that his attempt at suicide was unsuccessful and takes full responsibility for his choices.
"I knew I was trying to take the easy way out," he said. "I wish I hadn't done it, and I'm glad God didn't want me yet. It would have hurt my daughters, and they would be asking why. Everything has been good since. I'm no longer alone at home."
During his psychological assessment, Broussard realized that his mental illness stemmed from keeping all of his problems to himself. He now has friends and counselors to call on when he feels that something is wrong. He acknowledges that his entire mood and demeanor have changed for the better since he now has so much more human connection.
"He now holds his head up high," said Louviere. "His personality is flourishing. He's outgoing — and he's showing who he truly is, which is a good thing."