When the COVID-19 pandemic took hold across the country this year, many higher education experts predicted that colleges and universities would see declines in enrollment, perhaps by as much as 25 percent. Nationally, private universities have seen a decrease in enrollment by 5 percent. But at FranU, the opposite has been true. In fact, overall enrollment for the fall semester was up about 8 percent, led by growth in some graduate-level programs.
"While our new undergraduate student numbers remained consistent with last year, our graduate programs experience a slight increase in enrollment due to an additional cohort being admitted into our Doctor of Physical Therapy program and a slight increase in our Master of Health Administration program. We also experienced a significant increase in retention of current students returning for the fall semester," said Rebecca Cannon, FranU's vice president for enrollment management and student affairs. "We were expecting to see a decline in both new and returning students. Students were talking about taking a semester or two off, they were not interested in remote/online classes, the unknown of COVID was taking its toll on them. But through it all, we adapted to their needs and the environment and was able to provide the type of learning environment and support necessary that was conducive to their success.
Our student body is not of the traditional age population. With the average age of 26, more and more of our students are working and taking care of their families while attending school.
"We expected that the pandemic would hit them differently. We expected that many of them would have to stop attending school to take care of their children and/or families, take on more work to help combat the pandemic or were out of work because of the pandemic and could not afford to continue," Cannon said. "We did not see that. We saw more students coming back and staying enrolled in classes."
Cannon attributed much of that retention to the work of FranU faculty and staff, who worked closely with students who needed help with payment options, technology and more.
"As an institution, we pulled together to work alongside those students to make sure they had the resources they needed to move forward," she said. "We think the reason for the increase is because we were able to reach out to these students where they were, navigate what was happening with them and help each student individually according to their needs."
This semester, FranU's total enrollment is 1,362 students, Cannon said. Overall, the university is seeing strong numbers in biology, Medical Laboratory Science (MLS), Physician Assistant (PA), Respiratory Therapy, Nursing, Family Nurse Practitioner (FNP), psychology and Applied Behavior Analysis (ABA) certification.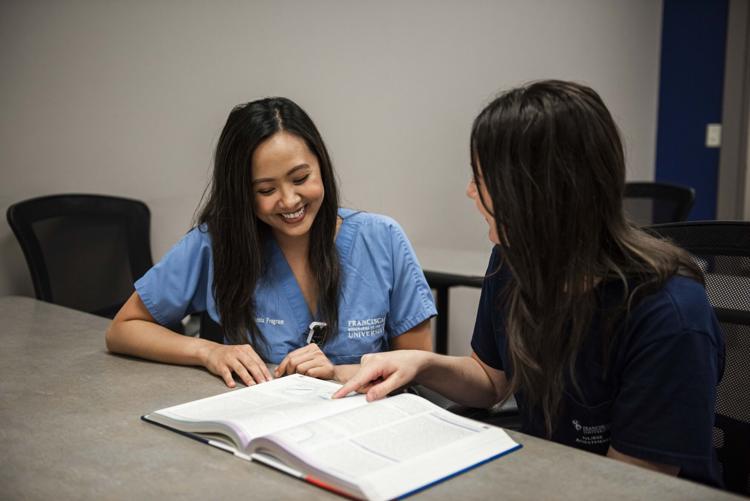 To help accommodate students, FranU has hired a few more faculty members and worked to ensure there was enough space for each class to learn while also practicing virus safety. One popular aspect of FranU is the fact that students often bond with their professors more closely than at larger universities.
"The professors know me and know my name instead of just an email address," said Paris Gil, who graduated from FranU in November with a degree in nursing. "I think FranU is great for students who don't want to be a number and who want professors to know who they are. Also, with the small classes, you get to know people in your class. I've developed really good relationships with both my classmates and the adults around the university."
Fellow student Patrick Corry agreed. After earning a bachelor's degree in English from LSU and a master's degree in professional writing from UNO, Corry decided to switch gears and pursue a career in health care. That led him to FranU, where he graduated in November with a degree in nursing. Corry said the accessibility of FranU faculty stood out, as well as his professors' commitment to treating the whole patient in a holistic manner.
"Throughout the program, we have been exposed to a multitude of clinical experiences," Corry said. "The instruction covered the whole life span, not just one age group. They really prepared us to work with very diverse patient populations and people from all backgrounds. I also found that the school is focused on evidence-based practices for nursing. I feel like they prepared us for anyone who will come into a hospital."
Corry and Gil both said they appreciated FranU's relationships with hospitals and medical facilities throughout the region. Those connections have helped them gain real-life experience and ensured that they would have jobs immediately upon graduation. In fact, this semester, some FranU students are graduating early because of the high demand for qualified professionals in their fields.
"FranU has also taught me how to be accessible to patients and how to model myself as a professional," Gil said. "It's very vocation-based. It definitely molds you as a person."
FranU is now accepting applications for the spring 2021 semester. The deadline to apply is December 1. All undergraduate programs begin in the spring, although some graduate programs only enroll new students in the fall. For more information or to apply, visit www.franu.edu.