Over the last several years, FranU has expanded its academic offerings to include more degree and certification programs. Such decisions are never made lightly. In addition to considering how the potential new program aligns with the university's mission, officials examine how the program meets an identifiable need in the community, how much it will cost to offer the program, how many students would be enrolled and what tuition price would be necessary to afford offering the program.
"We also have to look at the typical salary for someone with that degree or certification," said FranU President Tina Holland. "We don't just say, 'Here is our price.' We look at it based on what a student could reasonably shoulder as a just debt. If we can't charge a certain amount of tuition for that program, we have to raise money to fulfill that gap or see if tuition from other programs might help subsidize."
In recent years FranU has added a BA in psychology with a certification in applied behavioral analysis (ABA) and a therapy certification for people who work with children on the autism spectrum. Both were a result of community leaders letting FranU officials know that those services were in high demand.
"We came up with a model, figured out what the enrollment needed to be and ended up having to get grant money to offer the program and charge a just tuition," Holland said.
No matter a student's program, FranU offers a host of resources including academic coaching, career exploration, vocational discernment, counseling, disability services, subject-specific tutoring and personal academic advisors.
"Franciscan education prides itself on being relationship-based," said Brother Edward Violett, FranU's provost and vice president for academic affairs. "Because of our size and more importantly, because of our Franciscan spirit, students at FranU receive personalized attention. They are known individually by their faculty, advisors and student support personnel. They have ongoing access to these instructors and mentors, which enhances their academic experience and helps them succeed in realizing their dreams."
Since most FranU programs have a healthcare focus, Violett said practical experiences are a key part of students' education. This can include high fidelity simulations, lab experiences, internships or clinical experience in healthcare facilities.
"Since service is an important focus of the University, beyond the practical experiences, each FranU student (graduate and undergraduate) engages in several service-learning activities which see each student engaged in service to the community with our community partners throughout the larger Baton Rouge area," Violett said.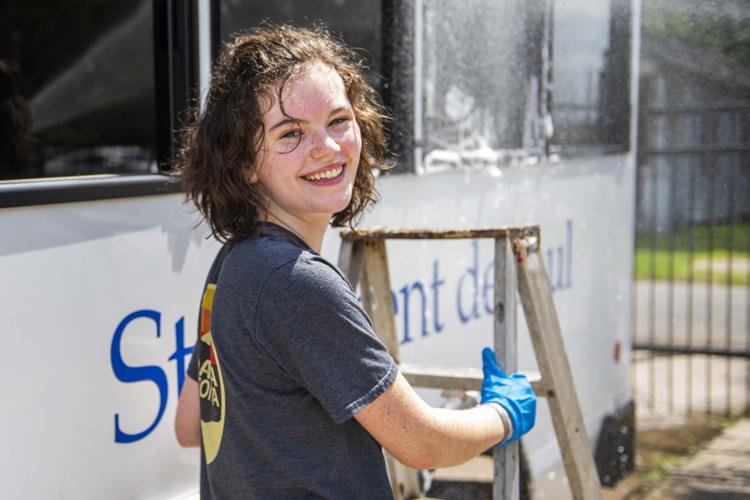 Thanks to tremendous growth over the past 10 years, FranU now has more than 130 community partnerships in 18 Louisiana parishes. During the 2019-2020 academic year FranU students enrolled in service-learning classes served more than 19,600 hours in the community.
The partnerships between FranU and community organizations are centered around areas including education and mentoring for disadvantaged youth, access to healthcare for medically underserved residents, support and education for people with intellectual and physical disabilities, support for the homeless and eldercare and social support.
"The way you learn about yourself is through service," Holland said. "That is one of our principles. If you want to hear the call and know how God is calling you, He dwells within people most in need. That is how you hear how He is calling you."
In addition to service-learning, many FranU students are members of Campus Ministry. Tammy Vidrine, FranU's director of campus ministry, said that each year, the organization adopts a global issue that affects local residents. Campus Ministry then promotes advocacy and awareness for the issue throughout the year at special events. The organization also conducts fundraising to support the chosen cause.
"We have promoted advocacy and awareness for religious understanding, racism, human trafficking, servant leaders, hunger and clean water," Vidrine said.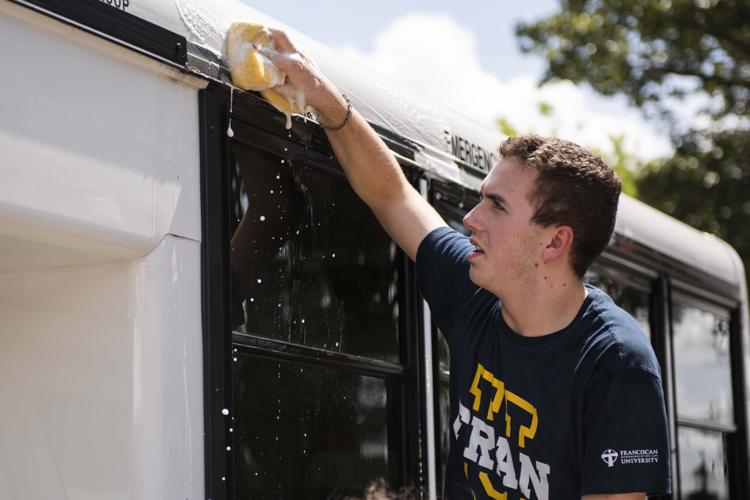 The Campus Ministry events include Finding Common Ground, which promotes dialogue and understanding around a key issue; Agape Dinners during Lent, in which professors and community leaders speak on a specific issue; Bible studies, prayer services, retreats and annual pilgrimages.
Other forms of Campus Ministry service include volunteering at local soup kitchens, women's shelters, food banks, Habitat for Humanity projects, Toys for Tots and more.
Holland said this type of service has proven to be more important than ever during the COVID-19 pandemic. While students have had to adapt the ways in which they serve, they have become creative and adapted to the new reality.
"We have to follow all the rules, but that doesn't mean we can't serve," she said. "We just have to do it in a way that's socially distant and that follows our partner organization's rules and how they are opening up."