No matter where a student is in their educational journey, an academic program at FranU can provide the basis for future career success.
One of FranU's increasingly popular offerings is the Master of Health Administration degree, a completely online program for people interested in a career in health care management. Some MHA students have recently completed a bachelor's degree, while others have years of experience in the workplace.
"It is geared toward anyone wanting a career in health care. In some health care management positions, a degree such as this is almost required," said Elaine Purdy, chair of FranU's business and health administration department and director of the MHA program. "It can be helpful for someone who has at least a year or two of experience, although it is not required. I've seen students who are very successful in the MHA program who come directly from college because they know that a master's degree gives them an advantage."
Purdy said the MHA program is sparking more interest in recent months as people are drawn to health care fields because of the COVID-19 pandemic.
Because the MHA program is completely online, students can work at their own pace. Classes run every eight weeks and students can take up to two classes every eight weeks, Purdy said. Purdy said most students complete the program in about 18 months, although that timeframe can vary depending on a student's pace and other obligations.
The nature of the MHA program made it ideal for Jackie Woods, who enrolled at FranU in June. Woods, a social worker, is working towards both her MHA and certificate in population health management from FranU. Woods said she decided to pursue an MHA because she believes her social work background would be a strong asset in an administrative role at a hospital or medical center.
So far, Woods said the program has been rigorous, but the FranU team has been helpful as she incorporates the classes into her schedule, which includes a job and raising two young children.
"The professors are very easy to work with and care about each student and how we are doing," she said. "Time management is a big factor for me, but because it is online, you can work it into your schedule. If you can only do classes on nights and weekends, that is okay."
For students looking for a broad background, FranU's bachelor of business administration program is designed for anyone interested in a business career, whether in health care or another field.
"The core curriculum focuses on project management, financial analysis and monitoring, budget preparation, management of people and processes, entrepreneurship and marketing," Purdy explained. "You can go into general business or you can choose a management track that focuses on management principles and skills, as well as leadership."
While some BBA students are entering FranU directly from high school, Purdy said others have work experience or certifications, but are interested in advancing their careers with a better business education.
"I like the way this program is structured because it builds a strong business sense and also offers opportunities to focus on a specific area," Purdy said. "A business degree gives you a lot of opportunities to apply that degree in a number of ways. It's a wonderful foundational degree to have."
One of the newer programs at FranU is the graduate certificate program in population health management. Purdy explained that the program combines education about good health care with techniques to work with patients to improve their lifestyles.
"These days, medical professionals are focused more on integrating health into people's lives," Purdy said. "It's about taking care of patients and helping them take care of themselves and get healthier."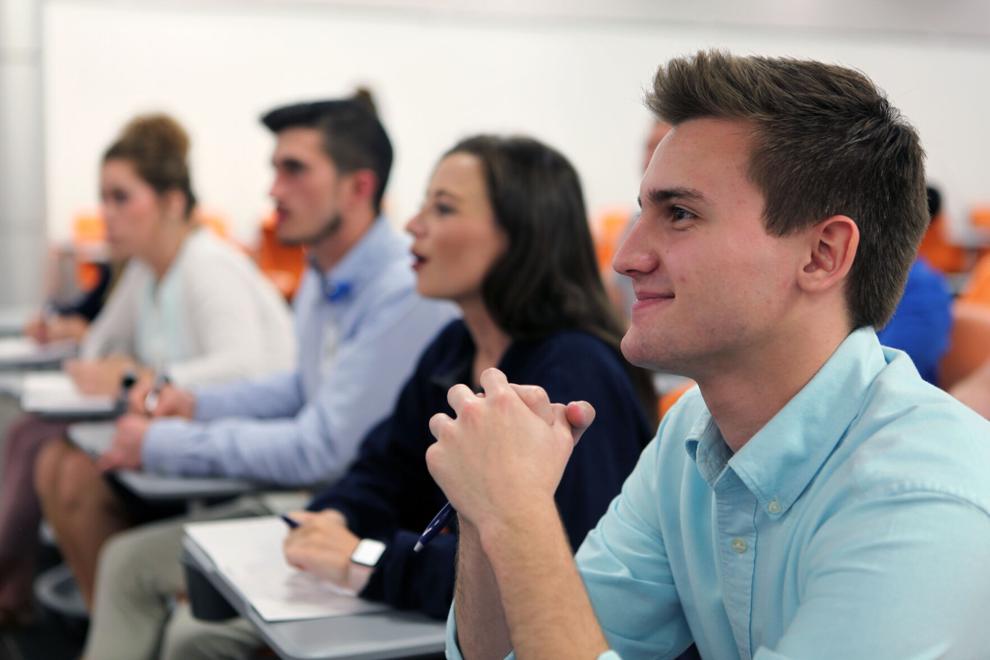 The certificate program requires 15 credit hours and is geared toward helping people in population health administration careers. People in these types of positions often work with health care providers to coordinate patient education and lifestyle changes.
"If people look at the job market today, they will see an explosion of jobs in population health management," Purdy said. "This certificate will prepare them for a career in that field."
Woods said she decided to pursue the certificate because of her interest in better understanding social determinants of health and the connections between health and poverty.
"I would really like to manage some population health programs and eventually be a director of a department in a hospital," she said. "I recently started doing case management, so I feel like I'm on the right path."
No matter which program a student chooses, Purdy said the FranU faculty is prepared to work with them, whether it be online or in person. All FranU faculty members are certified in online instruction and use engaging techniques to facilitate online learning. In addition, FranU educators have past or current experience working in their respective fields, so they are able to share real-world examples with students.
"I think our faculty is one of our strongest assets," Purdy said. "Our content is very focused on the practical application of skills and knowledge. We also don't just present the material and make you learn it on your own. Our faculty is extremely engaged and are always using innovative techniques to work with students."
For more information on FranU academic programs, visit www.franu.edu.