One evening about three years ago, Mary and Roland Dommert evaluated their living situation. They enjoyed their house in the Oak Hills neighborhood off Highland Road. It had served them well for 25 years. But during that time, they had amassed a lot of "stuff."
"I looked over at Roland and asked him if he wanted to clean all of this stuff out of the house by himself," Mary recalled. "He said he didn't, and I didn't want to have to do it one day either. We decided it was time to take stock of things and think about downsizing and perhaps moving somewhere else. We knew one of us was going to die and leave the other to clean out everything, and neither of us wanted to be in that position."
The couple, married since 1963, also recalled how challenging it was to find the right place for Roland's father in the early 2000s as he aged. Three of the Dommerts' four children live out of state, and the couple didn't want them to have to uproot to take care of them should the need arise.
"We wanted to find a place where we could have the care we would eventually need, because we are getting up in age," said Roland, 83.
The Dommerts were familiar with St. James Place since some friends had already moved there. Mary had always been impressed by its physical environment, including lots of greenery, walking trails and flower beds. As they began meeting with the St. James Place staff, the Dommerts realized this was where they wanted to spend the rest of their lives.
"It was a one-year process for us," said Mary, 80. "It took us a year to get rid of everything we wanted to from the house. We kept coming back to St. James Place and asking questions. We asked about everything from the laundry to the garbage pickup to the activities and the cost. They were so helpful and always answered anything we asked."
In September 2018, the Dommerts moved into a two-bedroom apartment in the Independent Living portion of St. James Place. The space also includes two bathrooms, a living room/den and kitchen. They have office spaces set up and a washer and dryer in their unit. They moved some furniture from their previous home into St. James Place, but haven't missed the items they ended up discarding.
"We went from a 2,500 square foot house to a 1,300 square foot apartment, but we got rid of a lot of stuff and we still have plenty of space," Mary said.
The Dommerts said living at St. James Place has given them, their children and grandchildren peace of mind. They don't have to worry about maintenance, housekeeping or cooking. If a hurricane approaches, they know they will be well-cared for, especially since St. James Place has a full generator system that is tested each month. There's no yard work to worry about, although since they enjoy gardening, the Dommerts happily tend to the flower beds near their apartment.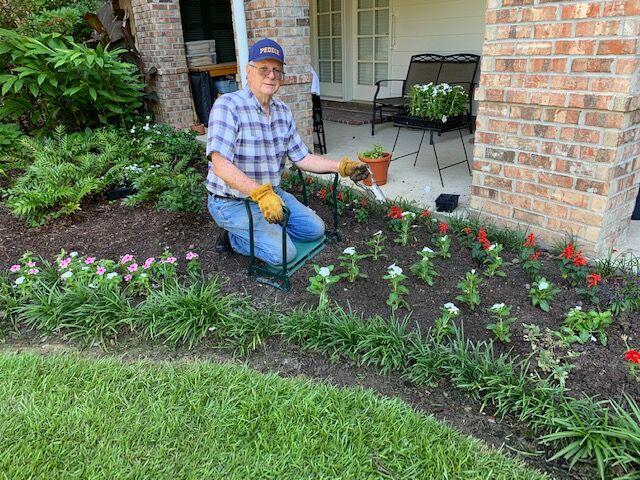 But for the Dommerts, one of the best parts about living at St. James Place is the sense of community and the friendships they've made with other residents. Mary belongs to two book groups, takes exercise classes and chairs the Library Committee. Roland enjoys tinkering in the on-site woodworking shop and is Vice-President of the Garden Committee. They both frequently take classes through the Osher Lifelong Learning Institute at LSU, including courses in world history, politics, music and more. Many of these classes are held on the St. James Place campus.
"One of the biggest things we have found is that our circle of friends has grown greatly," Roland said. "When you age, your circle of friends seems to get narrower, but living here, we have met so many wonderful and interesting people. We love talking with them about their careers and where they lived and the activities they were involved in. There's always someone to talk to."
Mary said they have also bonded with many St. James Place staff members, some of whom are local college students.
"They are all wonderful, really interesting people," she said. "I love to talk to them about what they are studying and their plans in life. It's invigorating for us to be around young people and hear about their lives and maybe pass on a few things we've learned."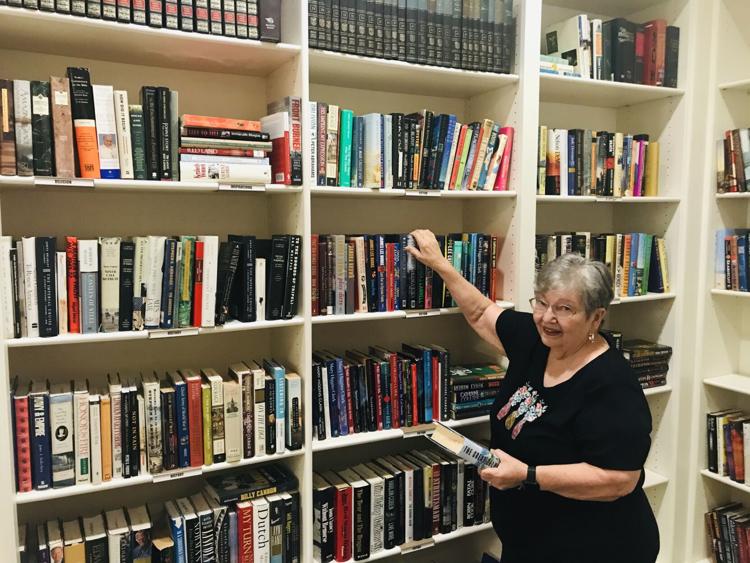 The Dommerts know that for many people, moving into a home like St. James Place can be a daunting decision. They've heard several of their own friends say they're not ready for such a change. But they enjoyed being able to make that decision on their own, evaluate their options and prepare for the move while they were physically and mentally able to do so. Now that they are settled, they feel as if they can enjoy St. James Place while they are still in good health.
"We know people who waited too long and then they ended up being in a rush or not being able to move where they wanted," Roland said. "The earlier you come, the more you get to enjoy life without all of the worries. You can still travel and read and pursue your hobbies just like you always did."
St. James Place offers Independent Living, Assisted Living, Nursing Care and Memory Care. A custom Life Plan is available for Independent residents that ensures a lifetime of residency and care at a predictable cost.
St. James Place is located at 333 Lee Drive in Baton Rouge. For more information, visit www.stjamesplace.org or call 225-215-4510.