At Blue Cross and Blue Shield of Louisiana, the commitment to diversity and inclusion is deeply embedded in the company's culture and its mission to improve the health and lives of all Louisianians. Blue Cross has an active diversity program; employees founded a Diversity Advisory Council in 2000 and helped create a mandatory internal diversity training program.
In 2005, the council evolved into the Office of Diversity and Inclusion when Blue Cross appointed a full-time diversity director. The office has grown substantially in the past 15 years, and the company has earned recognition from local, state, regional and national organizations.
In recent years, that commitment has taken on a new focus, resulting in more dialogue and stronger relationships among team members throughout the company.
"We use an analogy of an iceberg to describe diversity," said Rod Teamer, director of diversity programs and business development at Blue Cross and Blue Shield of Louisiana. "You may be able to see some aspects of diversity when you look at a person. But below the water line, there are a lot of other pieces that are not as obvious, and through relationships, you are able to find those things out."
The mission of the Diversity and Inclusion Office is to integrate diversity into all business practices, thus enabling the organization to respond effectively to an ever-changing market. The Blue Cross leadership team is in full support of this mission. In fact, President & CEO Dr. I. Steven Udvarhelyi signed the CEO Action Pledge in August 2019 and led employees to do the same.
"I pledge to check my bias, speak up for others and show up for all," the pledge states.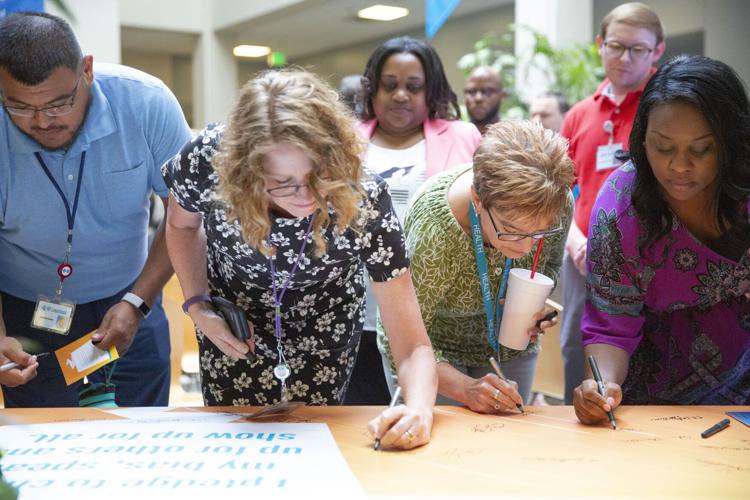 Blue Cross and Blue Shield of Louisiana's diversity work has won widespread acclaim, with awards and honors such as the Louisiana Society of Human Resources Managers Excellence in Diversity Award in 2017 and 2020 and the Greater Baton Rouge Society of Human Resources Managers 2018 Diversity Award. The Baton Rouge Area Chamber also recognized Blue Cross with its 2019 Diversity Star Award.
The existing strong relationships throughout the company helped facilitate open and honest discussion earlier this year following the deaths of George Floyd, Breonna Taylor, Ahmaud Arbery and others across the country. Teamer said Blue Cross employees and leadership have hosted 13 town hall sessions about race relations, with more planned for the coming months.
"We felt it was important to create a forum for our employees to share how they were feeling, ask questions and hear stories from other points of view," Teamer said. "The feedback is that they were very helpful and people want to continue the dialogue."
Teamer said the Blue Cross corporate intranet now includes a resource page with links to recommended books, articles, TED Talks and other assets for employees who want to delve deeper into racism and social justice topics.
In addition, Blue Cross has six employee resource groups for African-Americans, women, parents, emerging leaders, veterans and members of the LGBTQ+ community. The groups host guest speakers, present informational sessions and sometimes host crossover events, all of which are now going virtual. For example, the women, parents and LGBTQ+ groups have partnered for a panel discussion on parenting an LGBTQ+ child.
Recently, the African-American resource group has mailed, emailed or dropped off more than 2,500 fliers about the risk of COVID-19 among people of color to church groups, nonprofits and others throughout Louisiana. Members of the "Boots to Blue" veterans ERG have planted American flags in front of the State Capitol on Memorial Day.
As the company looks ahead, Teamer said another ongoing commitment for Blue Cross is to ensure diversity among its suppliers and vendors, especially to support women-owned, veteran-owned and minority-owned businesses. An additional focus is provider diversity to ensure Blue Cross members can find physicians with whom they relate and are most comfortable.
Teamer said Blue Cross' leadership team also is committed to continuing to bring in diverse slates of candidates for job openings.
"We know where the opportunities exist and we are committed to ensuring we strive to be the most diverse and inclusive company we can be through hiring and development," Teamer said.